PPC Services: Managing Expectations
It is critical that you have realistic expectations before jumping feet-first into Pay Per Click (PPC). You should not use PPC if –
You believe that PPC should provide a positive outcome in 30 days or less.
You are not prepared to lose money on PPC Services during the first 4-6 months of launch.
You want to cut bait and run within 2 weeks of launching any new PPC initiative when you do not see immediate returns.
Why is this so?  Because it takes months to accumulate enough data to begin making informed decisions about what is working, what is not, and how to leverage/adjust to these findings.
Here is what EverEffect shares with PPC prospects –



One of our long-term clients is committed, and patient.  Don't believe me?  Check out the chart below.  Revenue grew from $73 in 4th Quarter 2009 to > $7,400 in 4th Quarter 2010.  ROAS improved from 0.02 to 1.47 over the course of one year; revenue/quarter increased by greater than 10,000%.
An impatient advertiser (there are many) would have quit within three months of launching PPC!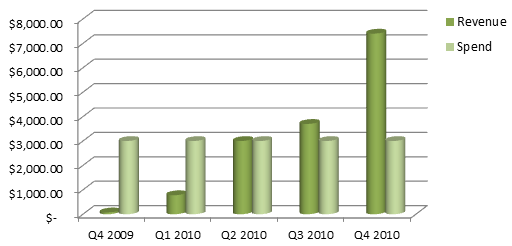 This client sells 1000's of products.  Months 1-4 were spent understanding which ones would consistently sell profitably.
Months 5-8, our efforts were directed at de-emphasizing non-performers and leveraging high-performers.
Months 9-12, with additional PPC account optimization, revenues soared, and the momentum continued.  For example, this same client beat first quarter 2010 revenue totals within the first eight days of 2011!
Abide before you decide:
Expect to earn $1 for every dollar you spend early on.  If you cannot absorb such a loss, do not pursue PPC.  This is typical during the first 3-6 months.
Our motto is, "Don't tell us how much you want to spend, but how much you want to make."  Know what you want/need to achieve, and understand what it will take to meet your goal(s).
Know that campaigns Fail!  This does not mean that your offering has no merit, only that you need to find a better way to sell it.
The biggest issue that we experience with Prospects is "Not So Great Expectations."   PPC is not a tap that one turns on and off, its process that requires commitment, diligence, and patience.
Related posts