Google Local Ads: Location Ad Extensions Boost Performance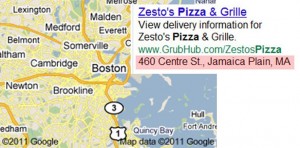 Are you a local business owner? Would you like to better target your ads to potential customers in your area? Are you looking for a little something 'extra' to call out your ads, but you are not interested in anything complicated or time-consuming? Well, why aren't you using AdWords Location Extensions already?
Since you're probably tired of answering questions by now, I'll just give it to you straight: it's no secret that Google's ad extensions are a great way to add information to your text ads, thus helping to call them out on a search page and boost overall performance. We've already talked about Sitelinks and Click-To-Call Phone extensions. Now it's time for another easy-to-activate, you'll kick yourself for not having tried it already, feature: Location extensions.
Similar to other ad extensions, Location extensions allow added information to appear below the usual 4 lines of text and URL. Users in your local area, or searching using location-specific keywords, will be able to see your business address displayed below your ad. This is a bonus for you for a couple of reasons:
Your ad will likely look slightly different than some others on the page, thus being called out and grabbing the attention of users.
Potential customers in your area can see where you're located immediately, and are more likely to visit your website or business when they see how convenient and close you are.
If you have more than one business address it's easy to include all of them: you can list up  to 9 addresses as extensions, so that the most relevant address will show up for local consumers.
A few things to keep in mind, however, when considering Location Extensions:
If your ad is displayed to a user who is not in your area, or who has not searched using location-specific keywords, the address may not show with your ad (your text ad will appear just like a normal ad).
As with other extensions, many times they are reserved for the top performers, so your address may not show with your ads if it is not at the top of the search results page.
Ready to get started to you PPC Account Management toolset? As we've already mentioned, the set-up is easy. Simply go to your campaign page, and click on the Ad Extensions tab. You can then select 'View: Location Extensions' and add a new extension. Enter your address information, and you're ready to go. For more detailed instructions check out this AdWords Help Center link.
Related posts