Of Toilets & Text Ads: Effectively Planning For PPC Policy Issues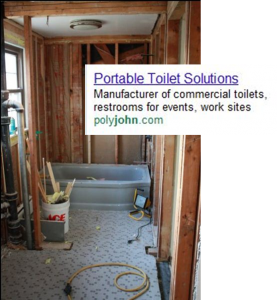 Well, it looks like spring might finally be here. And if you're anything like me, along with the warmer weather comes lots and lots of house work: spring cleaning; yard work; and—most exciting of all—home renovations. As an avid do-it-yourselfer I'm no stranger to some serious inconveniences in the name of improving my house. Gutting a kitchen? Check. Gutting the only full bathroom in a 1.5 bath house? Check. And after all of that I'd have to say that my biggest piece of advice regarding surviving these inconveniences is simple: make sure you have alternatives. The same is true of PPC and getting through the inconveniences associated with Policy Issues. If you're curious as to what toilets and text ads have in common, read on…
As any person who has undertaken a kitchen renovation will tell you, it's important to make sure you have some alternative cooking methods on hand to get through the project. Whether it's a microwave in the living room or a grill on the patio, life will be a lot easier if you have alternatives. The same goes for bathroom projects and toilets: you'll be pretty miserable without one, so you should probably make sure you're covered before you tear everything out. When you're undertaking any PPC account improvements, the same holds true; you shouldn't gut all of your ads and replace them with new ones unless you're prepared to have everything out of commission for a little while.
As has been discussed before, it's extremely difficult to keep on top of every single advertising policy out there. Even if you religiously read Google AdWords' Policy Change Log, chances are that there's at least one policy that you might not be familiar with. And with your luck, it could be one that affects your ads and/or business. Understanding this, as well as the fact that many ads will need to undergo review prior to being eligible to run, you should expect that there could be down time (either due to review or disapproval of ads) before your new ads are up and running to their full potential. So, if you don't want to halt all of your advertising, the smart thing to do is to keep a few of your current ads up while you undertake your account 'renovation.'
Later, when everything is running as you'd like and all of your new ads are approved, you can go back and delete the old stuff. So simple, yet it's amazing how the excitement of an ad overhaul can cause hiccups when an overzealous account manager 'spring cleans' everything too early. So, to recap, in order to prevent Policy-related PPC Pain:
Periodically check-in to ensure you know what's happening in the world of policy changes
Pick out a few ads to keep in your account and hold down the fort while you undertake any large-scale ad changes
The only thing left now is to make sure that you brush up your general policy knowledge, especially with some of those more complicated, less cut-and-dry policies…stay tuned for some overviews later on.
Related posts