PPC Account Management: The 7 Deadly Sins – Sin #2 – Envy
"There is no shame in being poor … only in dressing poorly."
— George Hamilton as Zorro, The Gay Blade
PPC Envy – a term first coined by Sigmund Freud in 1899 – rears its ugly head when you believe that your competition's PPC Campaigns are sexier than yours are: they show up all the time; they use more Keywords; and, they show up higher on the page than you do.
Your mistake is assuming that your competition's PPC Management knows what they are doing!
First, you do not need 24/7 visibility (Coverage) to be successful with Pay-Per-Click, especially if you are just trying to keep up with the PPC Joneses.
If you're B2B, and running on weekends, just like your competition, you are probably wasting as much as 30% of your PPC Budget, just like they are. Need proof? Here you go.
One of our B2B Clients generates 90% of their Leads by phone. The chart below represents call volume, by day, over the first quarter of 2011. These are SEO calls which means they occurred when the site is always open. Anything stand out? Exactly, only one weekend call out of 212 total.

So, while your competition is spending money on weekends, you save almost 30% by setting Ad Scheduling for Weekdays only. You could even take those Budget savings and leverage them on those days where you actually develop leads.
You may envy the competition's visibility; they would almost certainly envy your profitability.
Okay, you don't need to advertise seven days a week. You really do need to have your ads running all day. El wrongo, Moosebreath!*
Check out the chart below, which shows calls from organic traffic, by hour of the day, over the same date range for the same client. "Hmmm," you say. "I should use Ad Scheduling to narrow my focus even further."

"But," you argue, "I have an Ecommerce site and do tons of weekend business."
Okay, seven days a week makes sense for both you and your competition. But advertising all day long, just because they do, is probably not a good idea, either.

See, less than a half of one percent of total revenue comes between the hours of midnight and 6am. Still envy the other guy who's showing up all the time?
Lusting after your foe's Keyword List might be the worst thing one can do when managing your PPC Account.
Last year, one of our competitors shared a chart like this with one of our clients: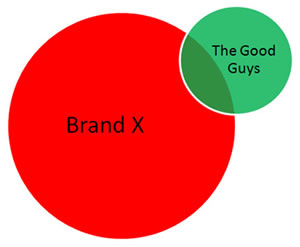 The big bubble represents all the Keywords that a key online enemy (Brand X) was showing up for. The smaller bubble included Keywords used by our client only (The Good Guys), and the overlap where both firms were competing on the same terms.
"Holy cow, they're bidding on 12x as many Keywords as we are!" exclaimed our concerned client.
Running competitive reports like these are valuable. We do it all the time. Please keep this in mind: it's not the quantity of Keywords that trigger your Ads, it's their quality.
Both companies represented in the Bubbles provide web-based services for marketing executives. So, what's wrong with this picture? Well, it didn't take us long to burst this bubble of envy:
The list of terms we did not display for revealed more about the competition than us. Thousands of the Keywords that triggered their Ads revealed that Brand X was not using Negative Keywords. For example, how was showing up for irrelevant Keywords like charlotte's web summary or – our personal favorite – f*^k your software you leechy f*^k help the competition sell more than we were?
We showed up for nearly 300 Keywords that Brand X did not, and more than two dozen of them were "Super Converters."
The Tiny Bubble – apologies to Don Ho – and overlap area represented the real battleground for profitability, and The Good Guys owned more than 40% of it uncontested!
In this example, what saved us – despite the smaller Keyword list – was a reduction in CPL from +$200 to $28 over eight months. Fewer, but better quality and higher converting Keywords make all the difference.
In the end, you don't have to spend more than the other guy, just spend it smarter.
Check out all the PPC Management Sins
Related posts