43 Questions to Ask a Prospective Digital Marketing Agency
Partnering with a new digital marketing agency is a big decision, regardless of why you're making the switch. Companies often choose a new marketing agency when they are ready to outsource digital marketing for the first time, or when they have outgrown their current partner agency.
Whether you're trying to better manage your workload, improve your marketing results, or leave behind a relationship with an agency you no longer want to work with, this resource is here to help you take the next right step!
With this list, you can create a strategy for evaluating any potential digital agency you are interviewing.
Goal Setting Questions
1. Who are your previous clients?
Knowing who the agency has worked with before you is a great way to find out if you're in the right place. In addition to looking at the quality of work in the agency's portfolio, check to make sure that they are working with companies that match yours.
Is the digital agency familiar with your industry? Have they provided their clients with proven results? Are there any conflicts of interest to be concerned about? What do their former and current clients say about the work they did?
Portfolios, case studies, and testimonials from previous and current clients will provide useful answers to this question.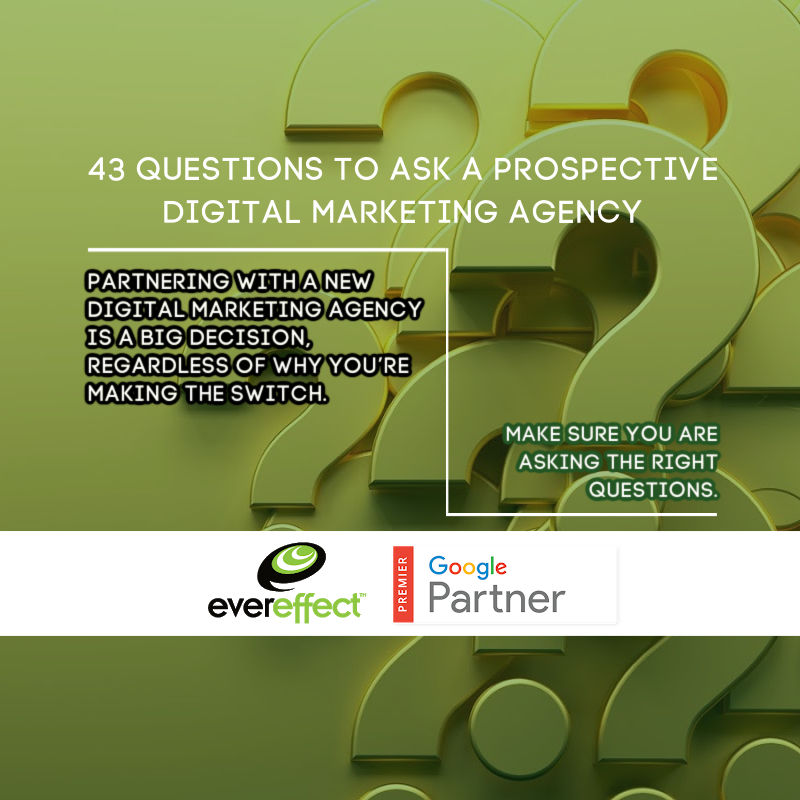 2. Will you work with us as we set and achieve company goals?
Digital marketing is a complex field. Agencies need to understand their clients' goals, and clients need to understand how the agencies can reach those goals.
Your marketing agency should be your strategic partner. That means that they will strategize with you as you work on setting company goals and then achieving those goals. Some of your goals may be: generating leads, converting customers, and solving the problems that are unique to your company, industry, and customers.
3. How do you measure success?
Success can be defined in so many different ways. Even individuals working on the same projects may define success differently. When screening a new digital marketing agency, be sure to ask them how they measure digital marketing success.
Here are some follow-up questions:
How do you measure the success of short-term goals?
How do you measure the success of long-term goals?
What is your agency's perspective on what makes a campaign successful?
What results are you going to use to determine success? What is your measuring stick?
4. How will you do the things that we liked about our last agency, and how will you make sure to avoid the things that frustrated or alienated us?
Before talking with a potential new agency, consider what worked and what didn't work about your own agency. You can be honest when talking with the digital agencies you're considering: This is what we liked. This is what we didn't like. How will you compare?
You will definitely benefit from a close evaluation of what you experienced previously. This process will certainly help you streamline what it is you're trying to re-create and avoid when it comes to signing a new marketing contract.
Offerings & Capabilities Questions
5. Are you versatile enough to meet our needs?
Versatility is important. Digital marketing isn't one-size-fits-all. If your social media posts drive a lot of traffic to your website, but your site looks outdated and sketchy, that doesn't actually help you convert leads.
Look for an agency that can handle your website design, web hosting, branding, digital and inbound marketing, social media, video content, blog, SEO, sales strategy, targeted advertising, and even more. A well-rounded agency will have plenty of options at your disposal.
Of course, these things should also be cohesive and well connected, with a consistent application across all of these platforms and tools. Develop a great brand, and you will benefit for years.
6. How much work will you be outsourcing to other companies?
Outsourcing is a standard part of the industry, but that doesn't mean that you want all of your agency's work to be outsourced to people you will never talk to. If you're totally re-doing your website and branding, it's great to know that you have access to the designers on the agency's staff.
If the agency has designers, developers, and content writers on staff, problems can be solved quickly and effectively. When a problem arises, you don't have to wait for it to go through three or four levels of the "chain of command" before it gets fixed.
Questions To Help You Get to Know the Team
7. Who will we be working with regularly?
Hiring a digital marketing agency is a lot like hiring a new group of coworkers. Because contracts typically range from about 8 to 12 months, you're going to be working with this new team for quite a while.
Ask yourself: Does this team seem approachable? What is your gut instinct when interacting with their client-facing team members? Is it possible to meet some of the team members in advance, before signing a contract?
8. Do our personalities match up well?
Relationships go two ways. When choosing an agency, you want to work with people you can get along with. Sharing the same values, personalities, or goals can be a great sign of a relationship that is going to work out well.
Think about the personality of your company culture. If you are a fun, lively company with a lot of energy, you may not want to work with an agency that is serious all the time. Or, if your company is all about professionalism and predictability, you might not want to work with the laidback start-up that is building their marketing brand on having an out-of-the-box approach.
Questions About Tools & Marketing Software
9. What project management tools do you use?
There is an almost endless list of tools available to today's digital marketers. However, some tools are better than others. Ask for a list of tools and confirm that these are high-end tools with a lot of versatility. If they give you a list of a bunch of free tools with minimal functionality, that may be a sign that they are not taking their responsibilities seriously. Free tools have their place, but if your agency isn't investing in the best tools, are they going to provide you with the best work?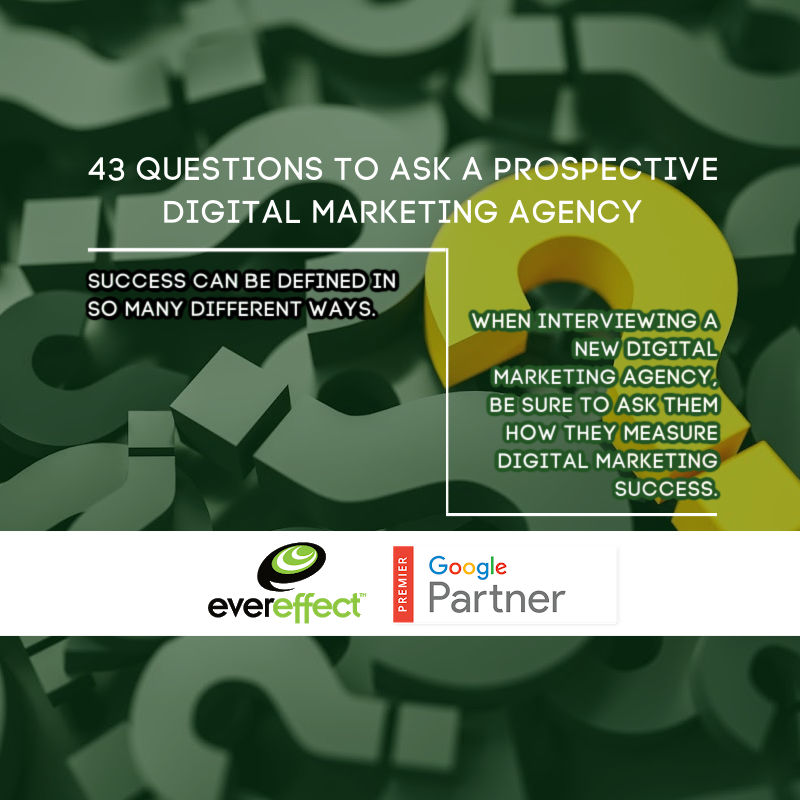 Account Management Questions
10. How frequently are we going to be meeting together?
Some marketing companies meet with their clients once a month, while others meet once a week. Some meet whenever it's needed and like to have someone from the client's office on call at all times.
It is a good idea to understand how the agency you're considering prefers to work so that you can confirm that it matches your expectations.
11. What meeting format will we use?
Online meetings are more common than ever before, so are you and the agency on the same page about what meetings will look like? Many marketing agencies have distance workers who are working from home, so they are already meeting online via video conferencing tools. How prepared is your company to use these same tools? Will you be requiring face-to-face meetings, and if so, how will that affect your relationship with the agency?
These are all questions that you can consider before you hire someone.
12. What kind of availability do I need to have?
It's not enough to know for sure when your agency is available to answer your calls and address concerns. Don't forget to consider what kind of availability you need to provide to the agency.
Will you be able to respond immediately to questions, via call or text? Are you working in the same time zone as your agency's team? What is the agency's expectation when it comes to turnaround times for emails?
Communication works best when all parties have these expectations laid out in advance.
Questions About the Contract & Proposal
13. What is the right length for our contract?
In most situations, inbound marketing isn't a speedy process. It takes time to build a platform and start driving traffic through quality content. Many experts estimate that it takes 3-6 months to start seeing results from an inbound marketing campaign.
This will influence the amount of time you choose to contract with a marketing agency. If you make the contract too short, you might end up hamstringing yourself before you can start to see a difference.
Check with the agency to see what their typical contract lengths are and what they can deliver in each of those time frames.
14. What is included in each month of the contract?
When you ask this question, you are looking for information about deliverables. What is it that the agency is going to provide to you at each stage in the process?
If it takes 3-6 months to start seeing results from an inbound marketing campaign, what should you be looking for in month one to confirm that you're on the right track? What should you be looking for in month four?
Having measurable deliverables, separate from just ROI, is an important metric for marketing success with a new agency.
15. What should we expect from the on-boarding phase?
In those first few months, before you start to see an increase in results from your inbound marketing and branding, you're likely in the "on-boarding phase." This sets the stage for the rest of the project.
Ask questions to learn what your agency is going to do during the ramp-up process. Are they making outrageous promises about immediate success? That might be a "too good to be true" situation. However, if they offer clear insights into the research they'll be doing, the content development they'll be working on, and the designs and plans they'll be sharing with you each step of the way, you've likely found a winner!
Search Engine Optimization Questions
16. How is your agency keeping up with SEO changes?
As Google has continued to change its SEO algorithms, marketing agencies have had to quickly adapt and adjust to what can seem like constantly moving goalposts. Find out how each potential agency has kept up with those changes.
You want an agency made up of people who know how to write content that avoids Google penalties. An agency that was cutting-edge three years ago might not be the right agency for you today.
17. If you could only use a single SEO tactic, what would you choose?
This is a question that is designed to get an authentic answer. It's not a question that most agencies anticipate hearing, and they have to think on their feet.
Want to know the ideal answer? While they may be able to come up with their favorite SEO strategy or the one they've seen get the best results, they really should emphasize to you that there is no "one single tactic" that will solve all your SEO problems.

There are a lot of important SEO strategies out there, and you should want a marketing agency that knows how to implement many of them.
18. How will you be using backlinks in our campaigns?
Implementing a backlink strategy takes a lot of time and labor, but when done well, it can be very rewarding. If you prioritize getting backlinks into established sites, you're going to improve your overall Google rankings. Ask your potential marketing agency how they will be using backlinks and when you can expect to see an increase in the number of backlinks that currently direct to your site.
19. How do you differentiate between mediocre and high-quality backlinks?
Can your potential client effectively describe the differences between types of backlinks? If you're not sure what they should say, here is some useful information:
A good backlink, one that helps your rankings, comes from a page that is already doing well in Google's rankings. These pages already have lots of backlinks to their own site. A high-quality backlink will also be positioned within the paragraphs of content, not in some sidebar or footer. Backlinks will also be relevant to the content of the page.
Hopefully, the digital agencies you're interviewing will be able to explain these ideas well so that you can be confident that they understand and use best practices when it comes to backlinking.
20. How do you use each of these different tools in your SEO strategy?
Many companies will be able to give you a list of tools and strategies that they use. But can they describe them for you? How will they use each of these tools, and how do you benefit from them? The more the agency can describe to you, the better.
Content Marketing Questions
21. Do you have a "brand" of content marketing that you use?
In other words, do they have an area of expertise that they prefer to stick to, or do they use a wide variety of tools? Are they strictly inbound marketers? Do they focus exclusively on paid advertisements? Do they create tons of high-quality content? If you're looking for the best option possible, be sure to find someone who does all of these things!
22. How do you on-board your content creators when they need to write about a new industry?
Content writers are experts in content creation, but not necessarily in every industry. When your agency hires a content writer, how do they make sure that the created content is actually relevant to what your company does?
Good content does more than just get words on a website. It also builds relationships with site visitors, promotes interaction and engagement, and attracts shoppers/clients to your site. The more a writer or content creator understands your company, industry, and marketplace, the more effectively they can do these things.
Ask how the marketing agency ensures that anyone writing content for them will do so with a complex understanding of the ins and outs of your work.
23. Will I be responsible for any of the content creation?
Don't be surprised if this comes up. The more unique your industry is, the more likely it is that you will need to provide some content.
If you're not confident in your writing and content skills, that's okay. A good digital agency should be able to take the content you have drafted and turn it into excellent site copy and blog posts. If you don't want to do any content writing or creation, be prepared to provide information to content writers through other means, such as interviews, recordings, notes, and links.
24. How will you make sure that the content you create for us matches our brand strategy?
You already know that you want to have brand consistency across your various platforms, including your website, blog, and social media. What if your content creator doesn't know how to match the tone, demeanor, or attitude of your company?

Great content should help your brand shine through. Ask each potential agency how they plan to ensure that the content they create matches your brand's identity.
25. Do you have any experience building a new brand?
What kind of experience level does the agency have with building new brands? Can they provide you with examples of brands they have developed consistency across several platforms? Marketing agencies should be able to demonstrate successful branding so that you can see what they can do for you, too.
26. Do you differentiate effectively between content and copywriting?
Copywriting includes website pages, advertisements, email campaigns, landing pages, and video scripts. Meanwhile, content writing is more focused on things like blogs and articles, ebooks, promotional guides, and newsletters.
Are you looking at a company that can do both? If you're asking about content and they keep talking about copy, you might be looking at an agency that doesn't focus on the high-quality content you're looking for.
27. Do you focus on short or long-form blog posts?
There are benefits and drawbacks to both long and short-form content. Does your agency know the difference between these two types of content and when to prioritize one over the other?

Short-form is about 300-1000 words, whereas long-form is 1000-3000 words.
One of the benefits of short-form content is that it's easier to produce, takes less time to write, and can help you stay consistent when it comes to content creation. The drawback is that it makes you less likely to end up on the first page of Google results.
Long-form content is typically more meaningful, with more opportunities for quality backlinks. However, it's also more expensive to create and takes a lot more work.
Which will your agency be prioritizing, and will they take your direction if you have a preference?
28. How do you come up with new ideas?
This is a great question to ask if you want to get some special insight into the workings of the agency you're talking to. Learn about their creative process when it comes to brand and content development.
29. Do you have designers on your staff?
Designers make the content look great They can create gorgeous infographics, make landing pages look fabulous, create consistency through your various sites and platforms, and ensure that when people see your content, they perceive it as high quality and trustworthy.
30. How much monthly content production is in the contract?
Whether the content is long or short form, you will need to know how much content creation is included in your contract.
10 short blog posts a month is a lot different than 10 long blog posts, and that difference will be reflected in your contract. Don't go into the contract expecting a weekly blog post that is 1000+ words only to end up getting one paragraph a week that you can post somewhere.
31. What metrics will you be monitoring for us?
Measurable goals are more meaningful than intangible ones. But you don't necessarily want the measurables to be "vanity metrics" that lack real meaning. Email metrics, for example, should be used cautiously. Web traffic, engagement, and a growing customer base are much more effective. What will the company be measuring?
32. Do you have any sample buyer's journeys from other clients that we can see?
A buyer's journey is a great way to get insight into the marketing process that the agency uses. When you see a buyer's journey, you see how the agency strategizes, responds to pain points and challenges, and helps the customer develop a relationship with the company.
How does the marketing take the buyer from awareness to purchase?
33. How do you differentiate between voice and tone?
You may have noticed that some of our recommended questions are designed to get the agency talking. The more they talk, the more you can know about them! This is one of those questions.
Differentiating between voice and tone isn't a complex question, but it's one that gives them a chance to be expressive and informative at the same time.
34. How do you decide which social media platforms we should focus on?
Do not accept this for an answer: "We'll focus on everything."
Focusing on everything is simply not a good strategy. It's very unlikely that your customers are on every single social media platform. Depending on the demographics of your target audience, you need to choose and prioritize the social media platform where they are spending time and responding to advertising.
35. How do you define a successful social media strategy?
Are you trying to sell products directly from your social media ads? Or are you creating an engaging social media page that directs visitors to your website? Do you need to find leads or convert them through social media? Should you be using Instagram to post beautiful pictures of your products, or should you be spending your time responding to customer concerns on Twitter?
36. How does your social media strategy reflect our brand?
Branding and marketing are related, so it is important to ask how the social media strategy will support and reflect your brand identity and story. Your social strategy should reflect the issues you care about and the attitude of your company.
Ask: Will the social posts you create for us come across as informed, compelling, and directly related to our brand?
37. What experience do you have with paid social campaigns?
Many platforms like to present the idea that anyone can run a successful social media campaign, but that's not accurate. Paid social media campaigns and ads are complex beasts, with many decisions to be made. Yes, anyone can place a paid ad, but not everyone knows how to place one that is going to accomplish what you want it to.
Does the agency have experience with paid social advertising and how it is different from paid and organic advertising on other sites?
Web Design Questions
38. Do you use website templates or create original, custom designs?
For this question, there is no one "best" answer. The answer will depend on what you are looking for. If you have a complex service or product line, or if you want a truly unique site, you likely want an original, custom website design.
39. Do you subscribe to responsive design?
Smart Insights, a research firm, found that 48% of smartphone users launch their first search for a product or service via their phone. That means that you need to expect users to be accessing your site from their phones. Responsive design ensures that visitors are greeted by an interface that they find easy to use, no matter what device they are using.
40. How will you ensure that our website keeps pace with the growth of our business?
Outdated websites are a killer for potential sales. And unfortunately, website design and useability change frequently, which means that you need to keep updated. A website redesign from two years ago may feel like it was just yesterday, but in reality, it could mean that you are far behind your competitors.
How will this agency help you stay on top of the changes in the market and the growth of your business?
41. Will you incorporate my feedback into your design processes?
What will collaboration look like with this agency? When you have feedback on something they have completed, will you be able to easily voice your opinion and feel heard? Or will you be treated like you're causing problems by voicing critique or asking for changes?
You know your business better than the agency. You know your customers. And you know your vision, brand, and goals. This means that you are the expert on your business, even if you don't know everything about marketing.
42. What do you use for website analytics and how will those analytics enhance our conversion rate?
There are a lot more website analytics services than you might realize. The agency may be using one of those tools, or they may be using the benchmark analytics company: Google Analytics.
Regardless of which tool they use, how will that information enhance your conversion rates? Conversion rates are one of the most important and accurate metrics for evaluating marketing success, so be sure to ask your potential agency how they will be using analytics and metrics to evaluate this rate.
One Last Question
43. How else can you show us that you're the right company for us?
This is your chance to get any vital information that the other questions didn't cover! Maybe they'll tell you how they don't work with any of your competitors, so there is no worry about conflicts of interest. Maybe they'll tell you a bit about their brand story and how it matches your values. Maybe they'll show you their past successes and demonstrate how effective they are at their job.
No matter what, keep in mind that YOU are the one in control of the final decision, and you can choose the marketing agency that is going to help you meet your goals and increase your ROI. Choosing a marketing agency is a big decision, but you don't have to go into it unprepared. We hope you use these questions to prepare the best digital marketing agency interview you've ever had!
GET TO KNOW EVEREFFECT
Every week or so, we EverEffect folks get together at a virtual roundtable to discuss business. Industry trends, creative strategies, favorite campaigns, tricky projects, compelling statistical evidence –anything is in the mix and everything is up for a talk-through. Then we share it all with you on the EverEffect Blog. If you're curious about what we're thinking, give our posts a read. Or give us a call at 888-506-2183 for a face-to-face.