SEO in 2021 and Beyond
We've all heard about the necessity of having an SEO (Search Engine Optimization) strategy, regardless of what industry we find ourselves in. But does SEO really matter? Should we really be spending so much time finding keywords, optimizing titles, and investing hours into data analysis — especially when Google algorithm updates are happening around the clock?
The short answer to that question is YES — SEO really does matter, and it's still important, especially with all the changes Google has been making recently.
Here's the issue, though: SEO is a long game, and if you don't play it right, you'll never see results. It's also a game that is always evolving — whenever Google makes an update to its algorithms, the game changes slightly. It's essential that we pay close attention to all the changes so as to not fall by the wayside.
The bottom line is that yes — SEO is still as important as ever. To make sales, build brand authority, and advertise products effectively, a company must invest in SEO in order to stand out from the crowd.
If you're new to SEO or want to update yourself on the new changes, this post will give you the tools you need to understand how SEO works, what changes Google has made recently, and how you can best use SEO for your website and business.
What Is SEO and Why Does It Matter?
Before we dive into the specifics of SEO, let's start with a simple definition: SEO stands for "search engine optimization." The goal of SEO is to drive organic traffic to your website by ranking within the top Google results for your brand. Say, for example, you run a fitness brand; you would want your website to be among the first to appear when someone searches keywords related to your industry (i.e. "best fitness brands, "athletic wear," etc.).
How does SEO drive traffic to your site? SEO involves everything from having long-form content on your site, supporting your social media efforts, including backlinks, and designing your site in a way that Google can easily break down the content (using H2s, H3s, etc.). Basically, think of SEO as a middleman between you and Google — when you invest in SEO for your website, it makes it easier for Google to pull information to share with the rest of the world.
SEO drives organic traffic to your site and according to a study by Bright Edge, organic traffic makes up 51% of all visitor traffic, beating paid advertisements and organic social traffic by a landslide.
The studies are clear, businesses should be investing in SEO when it comes to driving web traffic to their website. These efforts will provide businesses the most sales possibilities in the long run.
5 Benefits of of Search Engine Optimization
Benefit #1: According to Adweek, 81% of shoppers research products online before they make any purchases. After researching some keywords, a number of brands will pop up on the Google search page — if you've invested in SEO, your website will likely catch their attention by being near the top.
Benefit #2: Since SEO targets organic traffic, which is unpaid traffic, the investment ends up being more cost-effective for your business. Plus — if you're ranked on the top page, more and more people are likely to visit your site and use your services.
Benefit #3: Perhaps one of the biggest benefits of SEO is that it brings you more revenue for your business via sales. However, it is important to understand that SEO is a long game — you won't appear on the top page overnight. It takes time and consistent work to make sure that everything is optimized for maximum results.
Benefit #4: Small business? No problem! SEO isn't just for top corporations. Organic rankings are vital for small, local businesses. With SEO, you can tag your business to your location, meaning that when people search for things such as "fitness stores near me," your business will be one of the first to appear in the search results.
Benefit #5: Let's face it – Google is the leading search engine authority across the board. Both consumers and businesses alike trust Google, so why not use that to your advantage via SEO?
So, is investing in SEO worth it? Absolutely. But before we get into the details of getting started, let's talk about some of the changes that happened recently in the world of SEO.
How Has SEO Changed?
Once upon a time, ranking on Google wasn't a feat to accomplish. It was actually really simple, and there wasn't too much competition online to make it a struggle. However, as more and more people learned the details of Google's algorithms, they were able to format the information on their websites in a way that would raise their rankings. Thus, SEO was born.
People got smarter and started using Google to their advantage. But over the past few years, Google has gotten smarter as well. Instead of simply "reading" the information on your site, Google examines tons of other factors to signal whether your site should be highly ranked.
And what's more, these signals are always changing as Google updates their algorithms and revamps its SERP (Search Engine Result Pages).
How do those changes affect SEO? Let's take a look.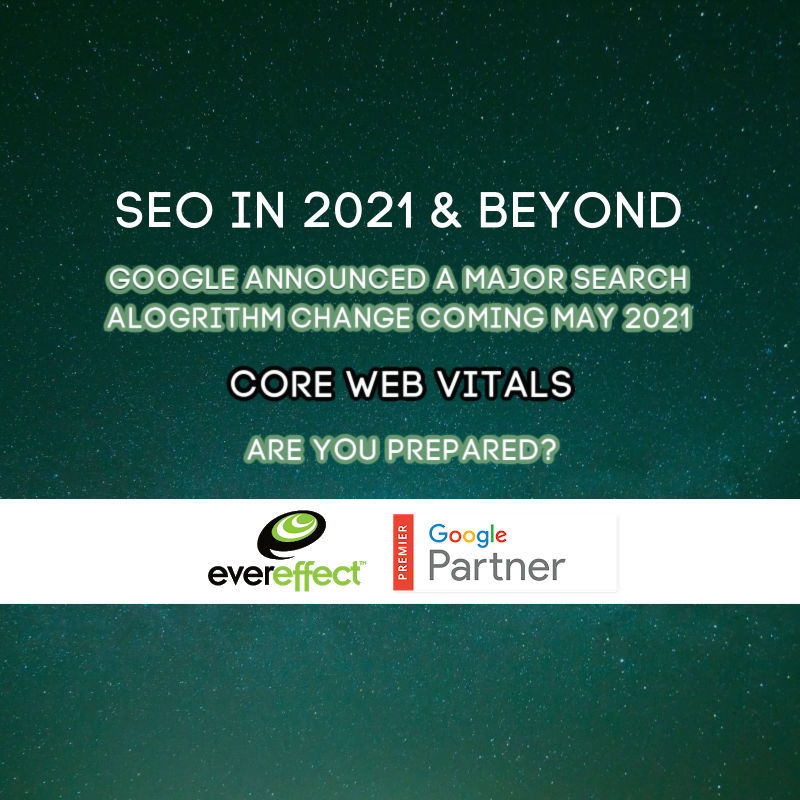 Recent Google Algorithm Updates
Panda (2011) – Sure, Pandas are cute, but this algorithm update in 2011 was far from it. If a website was deemed to have "poor quality content," then it would drop that website's ranking in the SERP. When this update was released, tons of businesses suffered as a result, making Panda one of the least favored updates in Google Algorithm history.
Penguin (2012) – A year later, Google released the Penguin update — another cute and cuddly animal designed to wreak havoc on websites whose content was "low quality." Penguin specifically targeted websites that used spammy tactics, attempting to boost website authority by disingenuous means.
Hummingbird (2013) – The Hummingbird update brought speediness and precision to the Google algorithm by letting it process complex phrases in relation to the context at a much higher rate. In addition to this, Hummingbird allowed Google to understand synonyms and user intent at a much larger scale.
Pigeon (2014) – A pigeon may not be "cute," but this update was much friendlier than its predecessors. The Pigeon update provided more accurate local search results for consumers and gave local businesses a boost.
Mobile-first Update (2015) – Moving on from the animal theme, Google released its first mobile-geared update, which was made to help websites that were mobile-friendly. Today, more people perform Google searches on mobile devices than desktops, so this update was much needed!
RankBrain (2015) – Later in 2015, Google updated its algorithm with RankBrain — a machine learning (AI) algorithm. This AI algorithm helps Google process search queries depending on the keyword — meaning that RankBrain can change the importance of content length, domain authority, and backlinks based on the keyword being used.
BERT (2019) – BERT stands for "Bidirectional Encoder Representations from Transformers." What does that mean? To put it simply, Google designed this algorithm to better understand natural language by examining words within their context in a sentence. It helps Google understand user-intent at a deeper level. However, it's difficult to optimize for BERT. The key is just to have great content that matches user intent (which is easier said than done).
Core Web Vitals (2021) – Google announced Core Web Vitals will become ranking signals in May 2021. Core Web Vitals are a set of metrics used to measure a website's loading, interactivity and visual stability. All three are related to site speed in one way or another, which is something we know has been important for both search engines and users for a very long time.
We know the sheer volume of updates may seem overwhelming, but don't let that scare you away from SEO. These algorithm updates are created to improve user experience and give businesses a chance to set themselves up for success. That being said, you must be aware of the major updates, as most of them include major tweaks that can change your SEO strategy.
Google Results Page Update and Additions
Instead of just seeing organic search results when you type in a keyword, you may come across some more useful information, such as directions to local businesses, phone numbers, images, Google Ads, reviews, and even tweets.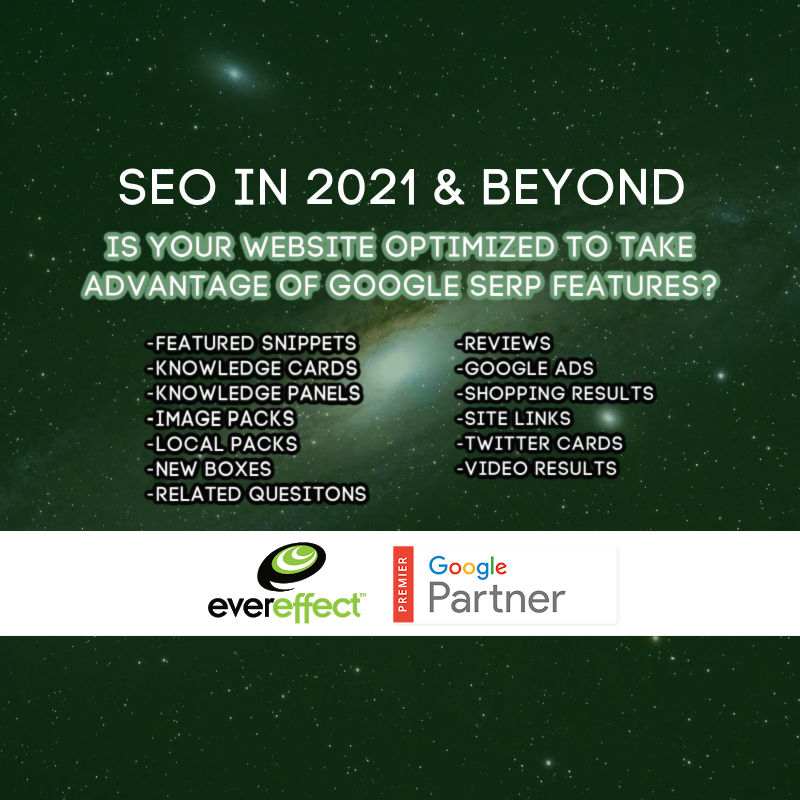 Is the addition of these elements good or bad for SEO? Some are great, others, not so much. Let's go through some of these changes and talk about whether you can use them for SEO opportunities.
Google Ads – GoogleAds usually appear at the top of the SERP and occasionally at the bottom of the first page. Instead of having organic search results take the top, these ads push those results further down the page. They don't necessarily turn up with every search query, but when they do, you'll usually see about 3 or 4 of them. In terms of SEO, these ads can be somewhat of a roadblock to organic traffic.
Featured Snippets – These are SEO goldmines. Sometimes, Google will pull information from a website in order to answer a specific question asked by the user. These snippets have an increased CTR (click-through rate) than regular results. Google presents this information either in a list, a paragraph, or a table to answer the user's specific question. If the content on your website is well-organized and directly answers potential questions, then you increase your chances of ranking first on Google's search page.
Knowledge Cards – Sometimes, people search the web looking for charted data rather than written content. In these cases, Google produces a knowledge card to be displayed at the top of the SERP. Sadly, Google only pulls charts if they have a data agreement with the website owner, so this isn't a huge SEO opportunity for most sites.
Knowledge Panels – Also referred to as Knowledge Graphs, Knowledge Panels pull data from Wikidata as well as Google's own data index. These knowledge panels often give a summary of a field, person, or corporation. Local businesses can appear in these knowledge panels as well, but to do this, you need to optimize your Google My Business listing.
Image Packs – Do you have a lot of images on your website? If so, you may want to invest in Image SEO. When visual content is relevant for the user query, Google will present images in a horizontal row at the top of the SERP.
Local Packs – If you search something like, "Italian restaurants near me," you'll see an example of a Local Pack at the top of the SERP — a list of top businesses that fit your search query. These local packs often contain maps, reviews, prices, and operating hours. These Local Packs take up a lot of screen space on the SERP and grab the user's attention. Your best chance of appearing on a Local Pack is by tuning your Local SEO and receiving good reviews from consumers.
News Boxes – If a Google user were to search a keyword related to the latest news, then chances are they would see a News Box at the top of their screen. If your site does not contain news articles, then this feature is not applicable to your business.
Related Questions – If Google believes that you may need more information based on your search query, then it will provide you with a list of Related Questions. It pulls information from well-optimized sites to answer these questions for you. Similar to Featured Snippets, if your site contains clear answers to questions (using What, Where, When, Who, Why, and How language), then you may appear in this list. The Related Questions box can appear at the top of the SERP or further down the page.
Reviews – When your page has a high rating (4 stars or more), then you not only get a higher click-through rate (CTR) but you also get more money in sales! You don't have too much control over whether these stars are visible, but you can invest time in your BMG, Facebook, and other sources to increase your chances. Reviews are especially important for local businesses and e-commerce sites.
Shopping Results – Similar to Google Ads, this is a paid feature that allows you to feature your products at the top of the SERP when they are related to the user's search inquiry.
Site Links – When searching for a direct brand or website, you may see Site Links below the main result. These site links can take up to 5 spaces organically under the main result, so this is a great way to receive more traffic to your site and build brand authority. To use Site Links, you'll need to install a search action anchor markup on your website.
Twitter Cards – If you search a trending topic, you may see relevant tweets at the top of the SERP. Unless your site has a high-ranking Twitter account, odds are that this feature won't be of too much use to you.
Video Results – Google will sometimes pull videos and place them at the top of the SERP if it thinks they are useful to the user. If your site contains video material, it's a good idea to invest in Video SEO. You can start by installing video schema markup on your page.
As you can see, Google SERP is much more colorful than it used to be. While these additions add opportunities for SEO, they also may decrease your CTR if you don't use them to your advantage.
But don't give up on SEO just yet! If you invest in it consistently, you can use almost all these features to bump you up on the SERP. You can even appear on Rank #1 if you do things the right way when it comes to SEO. That being said, what do we need to steer away from?
What SEO Techniques Are Really Dead?
With all the changes to the algorithms and SERP, we definitely have our work cut out for us to get clicks and better rankings. However, we also have more opportunities.
There is no place for spammy websites on Google SERP, and a lot of the old tricks no longer work for SEO. Things like keyword stuffing, spammy backlinks, copying content from other sources, and clickbait no longer work. Also — they're not really allowed. Even if you try to use spammy backlinks, it won't just be unsuccessful, you also may be penalized. Likewise, sites that are not optimized for mobile devices or that are slow and glitchy will not rank high on Google.
So, the question becomes, "What SEO techniques are valuable in 2021 and beyond?" We're glad you asked.
What SEO Techniques Are Essential for 2021?
You first have to understand the inner workings of Google like the first SEO experts did. When judging whether to rank a website high or low, here's what Google examines:
#1: User-Experience
#2: High-Quality Content
#3: Website Authority
You need to achieve high scores in all three in order to rank #1 on Google; to do this, you need to excel in both on-page and off-page optimization. Let's break those down.
On-Page Optimization
On-page optimization is fully in your control, and it takes place directly on your site. It includes applying improvements to site performance (such as making your site mobile-friendly, fast, using schema markups, and user-friendly site construction). In addition to investing in Technical SEO, it's important to optimize your content as well.
When writing content for your site, begin with keyword research — what are people searching right now in relation to your business? Use tools such as Ahrefs and Google Planner to help you with this. Once you find a trendy topic, divide your content into sections using headers (H2s, H3s, etc.) and images. This helps organize your content so that Google can digest it. Google will love the structure, and as a result, you have a better chance of ranking #1. If you're new to on-page optimization, we recommend that you use the Yoast SEO Plugin (if you use WordPress).
Off-Page Optimization
Off-page optimization is achieved by increasing your site's authority via backlinks (other websites link to your website). When other websites mention your website, then Google interprets your content as high-quality. Off-page optimization is not entirely in your control; however, by engaging PR opportunities for your business, you increase your chance of other websites linking to yours.
What's the Difference Between SEO and PPC?
Now that we have a solid understanding of SEO and its benefits, let's talk a little bit about PPC. PPC stands for "Pay Per Click," and it's a marketing model that drives traffic to your site via paid ads. SEO, on the other hand, mostly drives organic traffic (not-paid) to your website.
So, which one should you use for your business? SEO or PPC? Let's make a pros and cons list.
SEO Pros
Once you rank high on the Google SERP via SEO, you'll be there for a long time.
SEO is cost-effective.
SEO is great for crafting keywords and creating high-quality content.
SEO Cons
When you invest in SEO, you're playing the long-game. You won't see results right away. It can take a new website up to 3-6 months before they start receiving organic traffic growth.
In order to take full advantage of SEO, you must have high-quality content on your website.
If you're struggling to get your new website noticed, Google Ads are always an option. They look very similar to organic listings and they'll help your website get its first visitors.
PPC Pros
You can target specific demographics and keywords for your ad campaigns using PPC.
You have the freedom to test different ad strategies and make adjustments with ease.
PPC works very well for selling products.
PPC Cons
PPC can be very expensive — you pay for each click and visitor.
Since it is expensive, it makes it harder to profitability scale once your website is receiving more and more visitors.
Now that we've gone over the pros and cons, which one should you pick? The short answer is "you don't have to pick." You can use both marketing strategies to your advantage. You can use PPC to get your website off the ground, and then transition into SEO to keep costs down once your website sees increased traffic. Of course, you can still use ads in tandem — it's up to you!
Start Your SEO Journey with Us Today
While there have been many changes recently due to Google, SEO is far from dead. If you want your website to succeed in 2021 and beyond, it is vital that you invest in SEO. And not every SEO investment takes money either!
Here are a few tips to get you started:
If you want to succeed in the online space, organic traffic is non-negotiable, and the best way to get there is undoubtedly SEO. We hope that the information and tools outlined in this article help you jumpstart your SEO journey in 2021.
GET TO KNOW EVEREFFECT
Ready to rev up your Digital Marketing for your business?  As a Google Partner, EverEffect has exclusive access to Google expertise – a distinction given to only a select number of Google Partners worldwide. 
We can help our clients and potential customers learn the latest industry trends and how to best leverage them through exclusive webinars with our Google experts. It's just one of the great benefits that come from the experience, dedication and results-driven success our clients receive. Tell us your story via our online contact form or give us a call at 888-506-2183 for a face-to-face.