Content Editing – What Would Your Grandmother Think?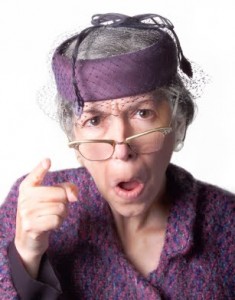 We really shouldn't have to make this inquiry, but in a world of "self-publishing" through Tweets, Facebook posts, blogs, and more – is it really important to be "edited" in today's world?
The answer is a huge, resounding "YES"!!
Remember what your grandmother used to say: "If you can't say something nice, don't say anything at all!" I believe the word "nice" here could easily be translated as "quality" and applied to internet content.
Sure, sometimes it's intimidating to have your work edited, but it always comes out better on the other side. It helps to guarantee your content is not only worth something to your clients, but in turn, worth something to you.
Here's why you should always have a second of eyes check your work before you release it to the general public:
1.  If you are a professional writer, sometimes you get lazy
Let's face it, we all have those days. Are you bored with the topic? Do you have too many other things going on? Are you stressed over difficult clients and not putting as much work into their blog as you should? That's okay, we all have those times. But that is exactly why you need a good proof read. You never know who is reading a blog and you don't want to let one bad post be the deciding factor for a potential client!
2. Some people still appreciate good grammar
What if that potential client is a real grammar-stickler? Forget the sticklers, some people just appreciate that the English language is not a lost art. You wouldn't want to lose a potential client over a badly written piece, so take a little extra care and have somebody check your work. Think this sounds extreme? As a writer, I pick and choose my services based on the quality of their content. If they have grammatical mistakes, I will search for another option. That may sound harsh, but I figure if they can't spell, I may be able to find better service elsewhere.
3. Word-of-Mouth Advertising
You never know what business you're missing out on because of your bad writing. For example: one of your clients wants to share what you do with their friends, but after reading your blog, they are not as confident in your abilities. They might even feel a little embarrassed that they use your services when there could be a better option. Take advantage of word-of-mouth advertising by giving clients some fantastic content to recommend, and by assuring them that their confidence in you is not misplaced.
4. Giving away too much
This may seem like a no-brainer, but it's a lesson we've learned the hard way from a client, who literally provided step-by-step tutorials on his blog about how to do his job. By the time I was done reading his articles, I genuinely felt like I would never need his services, because I was pretty sure I could have done his job by myself. Handing out information and helpful tutorials is fantastic, but giving away too much information can really hurt your business. Having someone edit your work will help you make sure you're balancing the fine line between giving helpful information and giving away too much information. Maintaining a sense of mystery can be a good thing, especially when you want clients to think they can't live without you.
Why am I writing this blog?
Shouldn't I be taking my own advice and convincing you that you need EverEffect to handle your content marketing strategy? Well yes, I should. That's why I only gave you four tips instead of 15.
Just remember one thing for me: If you want people to think you know what you're talking about, give them information that proves you do. Better to release nothing than to release content of low quality. Google, your clients, Abraham Lincoln, and your grandmother all agree.
GET TO KNOW EVEREFFECT
Social Media Manager Kacey Reynolds believes in building a client's brand by engaging them in their community and building trust through a strong online presence – and quality content.  She uses social platforms to create a unique face for each client, giving them the opportunity to reach untapped markets. If you're curious about what we're thinking, give our posts a read. Or give us a call at 888-506-2183 for a face-to-face.