Best Client Ever – TulsaChain.com, LLC
TulsaChain.com Partners with EverEffect and Experiences a Revenue Increase of 119% in the Year One … "We are seeing big growth."

EverEffect and TulsaChain.com are wrapping up an amazing first year of working together. TulsaChain.com is an e-commerce site that sells rigging supplies for oil rigs and other industrial applications. Although it's a niche site, it does a huge amount of business.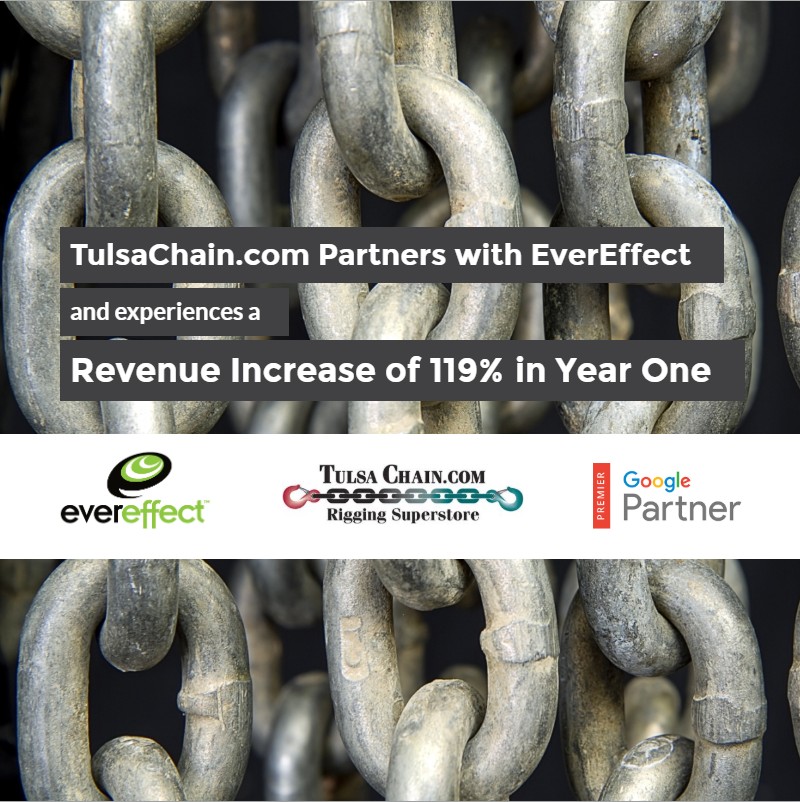 When EverEffect came on board in April of 2018, TulsaChain.com was successful but their previous agency was missing major opportunities in paid search using Google Ads, and Microsoft Advertising. The major problem was ecommerce tracking was never set up until the end of January 2018, making it impossible to track paid search results.

EverEffect saw the holes in their existing plan and whipped their PPC program right into shape.

Thomas Heed, EverEffect Co-founder, was involved in the TulsaChain.com PPC revamp from the earliest stages. "One of the first things we did was create shopping ads, which now account for 65% of their paid search revenue," he said. "That was brand new for them and wasn't done by their previous company."

Through a combination of improved strategies with Google Ads and Microsoft Advertising placements, EverEffect has helped TulsaChain.com see a massive improvement in its leads, conversions, and most importantly, revenue. EverEffect is a Premier Google Partner, which of course helps every client see maximum results.

After one year partnership, the results are impressive:

Click-through rate is up 41%
Conversion rate is up 130%
Number of transactions is up 50%
Revenue is up 119%
Return on ad spend is up 77%
Recently, May 2019 was the best month ever on TulsaChain.com – 30% higher than any other month since ecommerce tracking has been in place. And year over year, paid search was just over 50% of that growth. From January 25 to May 31, all e-commerce revenue is up 47% compared to the prior year and Google Ad revenue is up 90%.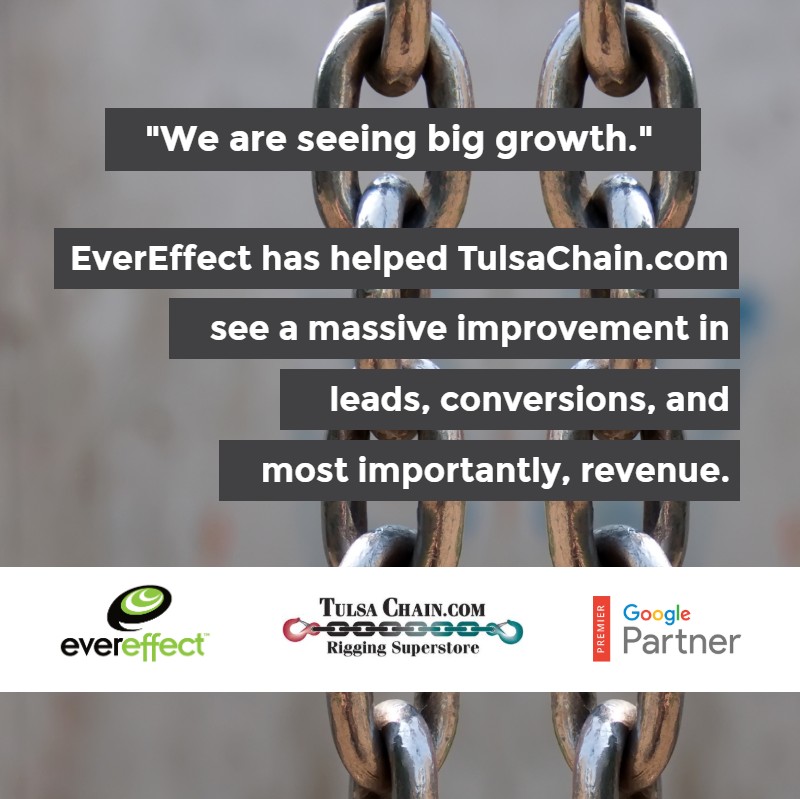 Not Standing Still – There is Room to Improve

Right now we're exploring a new kind of placement called a Smart Shopping Ad, which displays across multiple channels: Google search results, YouTube, and within the Google Adsense network. It could be a powerful next step for TulsaChain.com and other clients.

Into the Future

The most successful partnerships EverEffect has are with companies that share their business outcomes with us. TulsaChain.com has been fantastic in this respect. The fact is that when EverEffect engages with partners that share outcomes, we get results.

GET TO KNOW EVEREFFECT

Every once in a while, we EverEffect folks get together at a virtual roundtable to discuss business. Industry trends, creative strategies, favorite campaigns, tricky projects, compelling statistical evidence – anything is in the mix and everything is up for a talk-through. Then we share it all with you on the EverEffect Blog. If you're curious about what we're thinking, give our posts a read. Or give us a call at 888-506-2183 for a face-to-face.

PREMIER GOOGLE PARTNER
As a Google Partner, EverEffect has exclusive access to Google expertise – a distinction given to only a select number of Google Partners worldwide. Now, we can help our clients and potential customers learn the latest industry trends and how to best leverage them through exclusive webinars with our Google experts. It's just one of the great benefits that come from the experience, dedication and results-driven success our clients receive.