Best Client Ever – Classic Auto Insurance Agency, Inc.
Classic Auto Partners with EverEffect and Boosts Annual Quotes by Almost 50% … "I think this is the beginning of a beautiful friendship."
Indianapolis, IN-based Classic Auto Insurance has been offering car enthusiasts a more affordable way to protect their classic cars for over 15 years. Led by Vice President Drew Yagodnik, the company has evolved their specialty insurance to include expanded mileage allowance and free roadside assistance. Each member of the Classic Auto team is required to become an "expert" in his or her knowledge of collectible vehicles, which ultimately provides their customers with the best service possible. As EverEffect is an integral part of Classic Auto's team, we're all for expert-level service.
What does it take to nurture and grow a most excellent relationship with your client partners? EverEffect co-founder and President Thomas Heed, partner and COO Chris Bross and creative content strategist Janet Muniz give insight into "the EverEffect Way." Here's a hint: a key takeaway is evolution.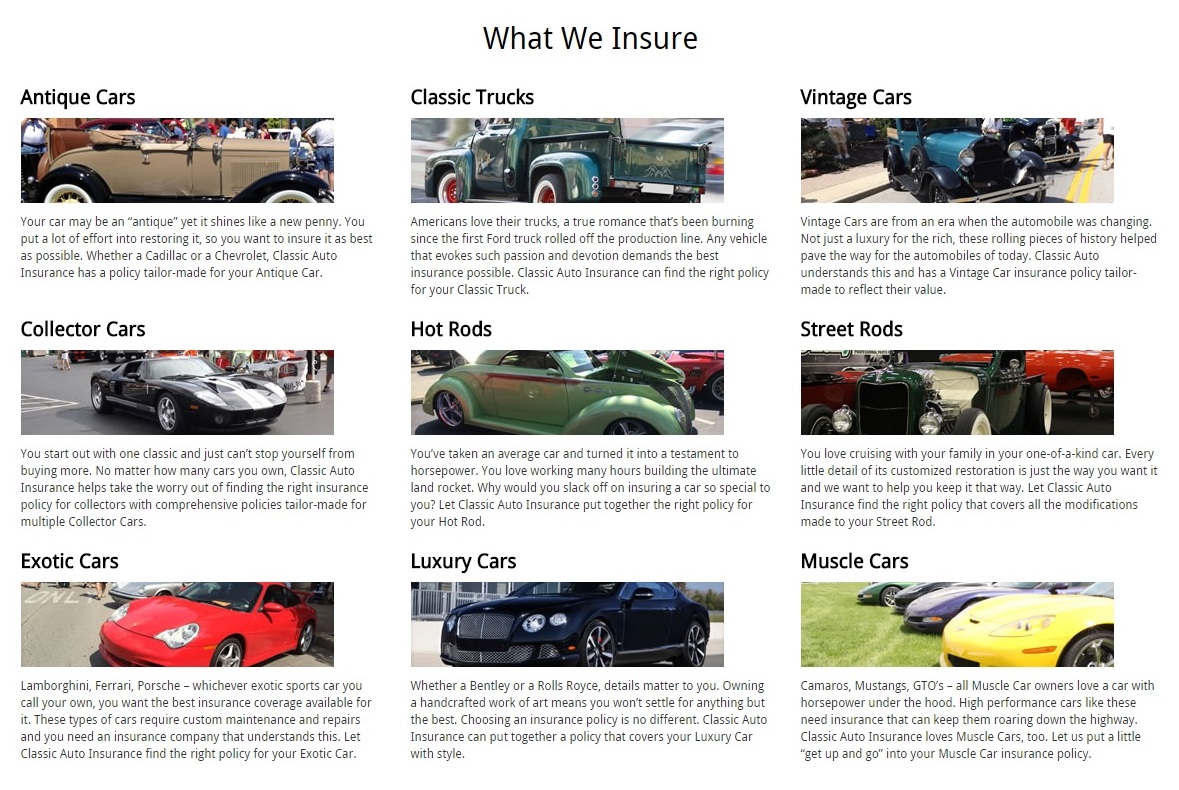 "I always appreciate that extra effort in finding those niches that we can spread our message to but in a different way. It's produced really impactful results for our business long-term."
– Drew Yagodnik
Thomas: Since we started working with Classic Auto five years ago, the average number of annual quotes have increased by 45.5 percent; total premiums have increased by 52.5 percent; and the policy count for direct to consumer (DTC) has seen a 34.1 percent increase. It's fair to say we've maintained steady positive growth for them, especially compared to other aspects of the insurance business as a whole.
"If we were to manage our account ourselves, the changes that are happening on a daily basis when it comes to paid searches and campaigns, we just wouldn't be able to keep up with it all."
BACK IN THE DAY
Chris: Five years ago, Classic Auto was at a crossroads with their business. Insurance companies with recognizable brands were beginning to enter their niche market, and they were looking for new ways to compete. It's like the story of David and Goliath, Classic is the small fry against all these big, super-spending companies.
Thomas: Meanwhile, Drew and his team were spending a lot of money on print and trade shows.
Chris: They were also managing their pay per click (PPC) account on their own and they weren't having a great amount of success. From the technology standpoint, the website was structured in a way that was not conducive to strong SEO (search engine optimization) results.
Thomas: It is Drew who envisioned the Internet as where they needed to compete. He's proven to be very savvy about technology, a very forward-thinking person to work with. Drew keeps on top of things, and he is an excellent partner in identifying opportunities or trying to tap into new trends.
Chris: Drew saw the opportunity of taking their business online, they just didn't have the resources or the knowledge or the strategy in place to do it. This is really the genesis of our initial conversation: We need to do this and we need your help with building it, making it successful.
"It's really been a great partnership. From start to finish, EverEffect does a great job of understanding how our business works, how we bring in customers and what our goals are on a year-to-year basis."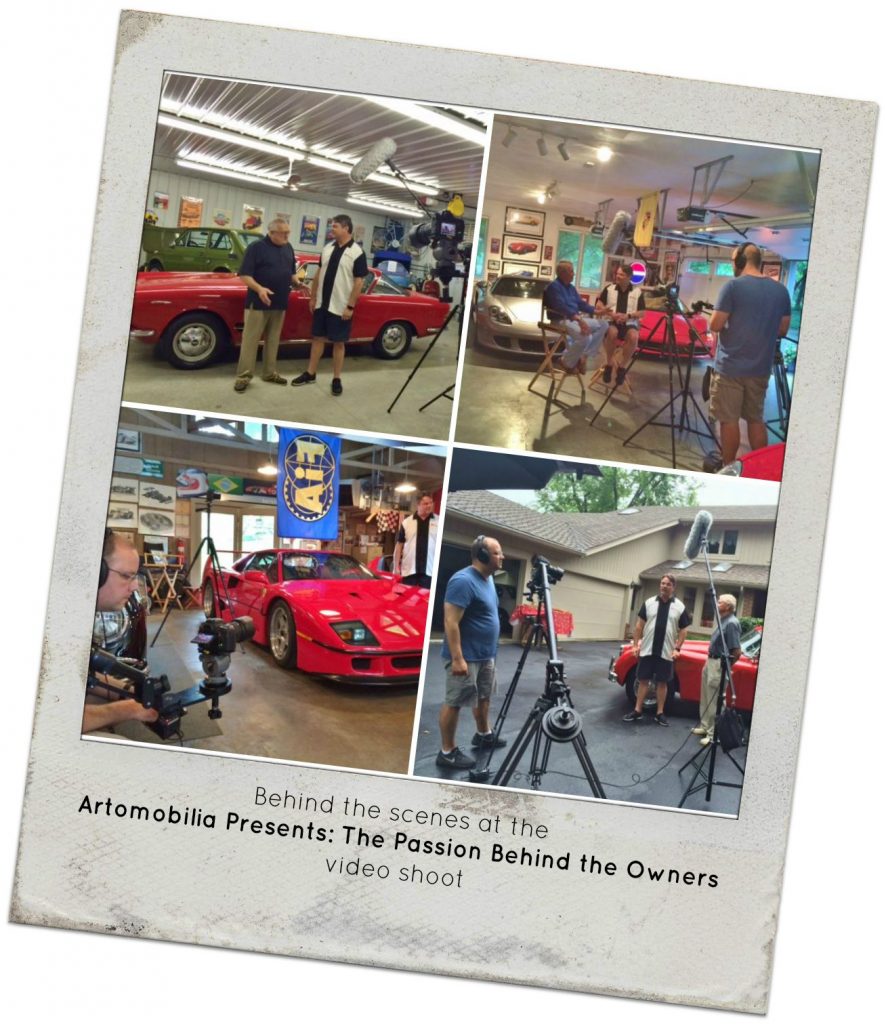 ROAD MAP TO SUCCESS
Chris: We started by thinking, 'let's right the ship.' Let's analyze the pay per click account and make it more efficient. Let's look at the website architecture from a fresh SEO standpoint and adjust accordingly. Then, we work with Classic Auto on an ongoing strategy.
Thomas: As Chris points out, we needed to understand Classic's business model. How do they get their customers? Evaluate the technology in place, then develop a plan. Typically we call that the road map.
The Power of Personalized Content
Chris: We stressed the importance of engaging content with them from an organic standpoint. How is content the focus of our conversion, even on the website landing pages? Once we get people there, we need to tell them what the next step is: get a quote. We wanted to make sure when people do visit the site that it's user-friendly and conversion-friendly.
We made sure the main site content was relevant and moved ahead with creating an editorial calendar for ongoing blog content. In the beginning, the content covered topical material and industry news in a clear, concise manner. Combined with a consistent publishing schedule, it worked. The custom content helped bring more people to the site.
Extending Classic Auto's Reach
Thomas: We also restructured Classic Auto's existing PPC account. We looked at what key words were actually working for them. We turned off the ones that weren't. We created new ad groups to improve the relevancy.
In the early days, the goal was to create quote volume. We were sending people to deep pages on the site. If someone was searching for classic car insurance quotes, we would send them right to the rater, so they could get a quote right away.
Then we started looking for ways to extend their reach. We dabbled early on with what's called the display network, then branched out into remarketing. Both performed incredibly well for the first couple of years; over time, though, we saw diminishing returns. In the case of remarketing for instance, it had become over saturated and less effective. We turned those things off and redirected the budget to where we felt we were having the most success.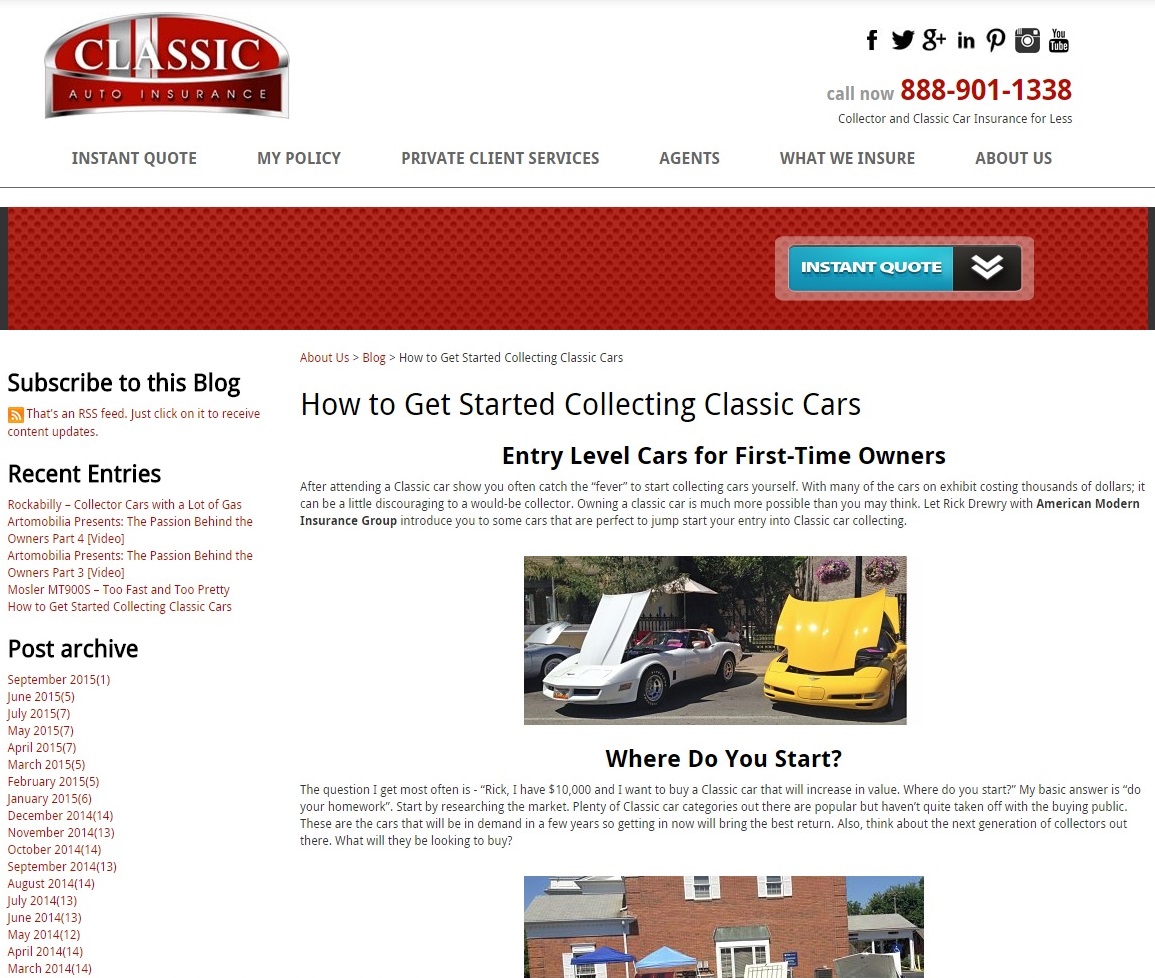 Developing the Classic Auto Voice
Thomas: Even five years ago, a lot of SEO was link building. As the industry has changed, there's been more of a premium placed on quality. Chris recognized the growing importance of quality content in our business pretty quickly. With each new sea change, we ride the crest of the wave rather than the top.
Chris: As the law of diminishing returns started to affect Classic Auto's basic content, we began writing and producing stories that engage the audience on an emotional level, bringing to life the people, places and things that are important to car collectors everywhere, with an emphasis on the local car collecting community.
Janet: New content is written from the point of view of a passionate car collector and positions Classic Auto as an expert in the field, a go-to source for all things classic car. That spreads out into what's going on in the world of car collecting. Automotive news, rallies, car shows, the ooo's and ah's of people who love classic cars. It runs the full gamut now. It becomes part of their lives.
Thomas: I think you're on to something, Janet. Classic Auto has the same passion as the people they serve, which enhances the connection between them. They're more than a car insurance company, they're a fellow collector.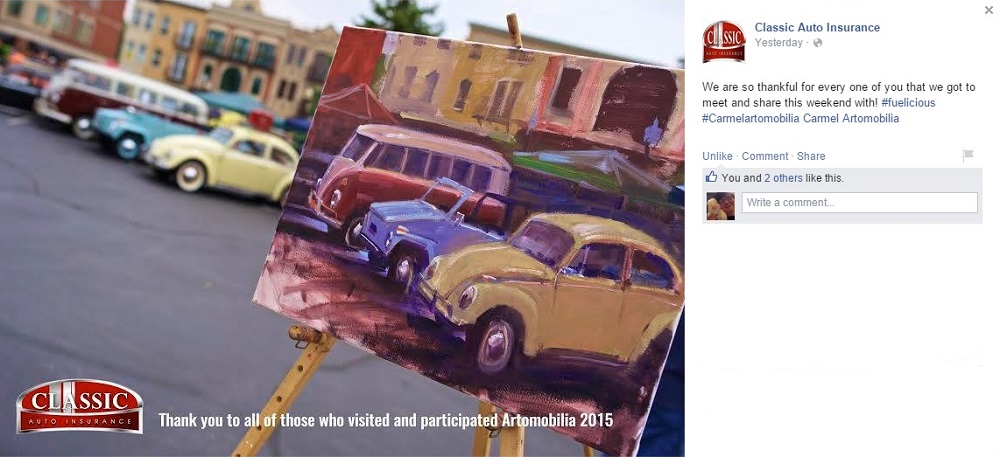 MAKING GAINS AND FUTURE PLANS
Chris: We're creating quality content in more and more engaging ways. Like sharable infographics. And videos. We're developing partnerships for Classic Auto with influential car collecting events like the Carmel Artomobilia and with respected car products manufacturers like SONAX. We're developing webisodes and sponsorships. This is what our audience wants. It's easily digestible, plus they like it.
Janet: Certainly the collector car blog is more enticing visually. The entire look of the blog is totally fresh and speaks more to how people actually engage with content these days. You see a lot of pictures. Snappy headlines and readable paragraphs. Original artwork that's informative. Video interviews with real collectors and their beautiful cars. We're using visual storytelling to create persuasive, entertaining lifestyle messages designed to touch the audience in a positive way.
Thomas: We also built a case for social media, which is creating more and more of the juice. We've added thousands of new followers to Classic Auto's social channels, who are engaged in this new content that we're creating.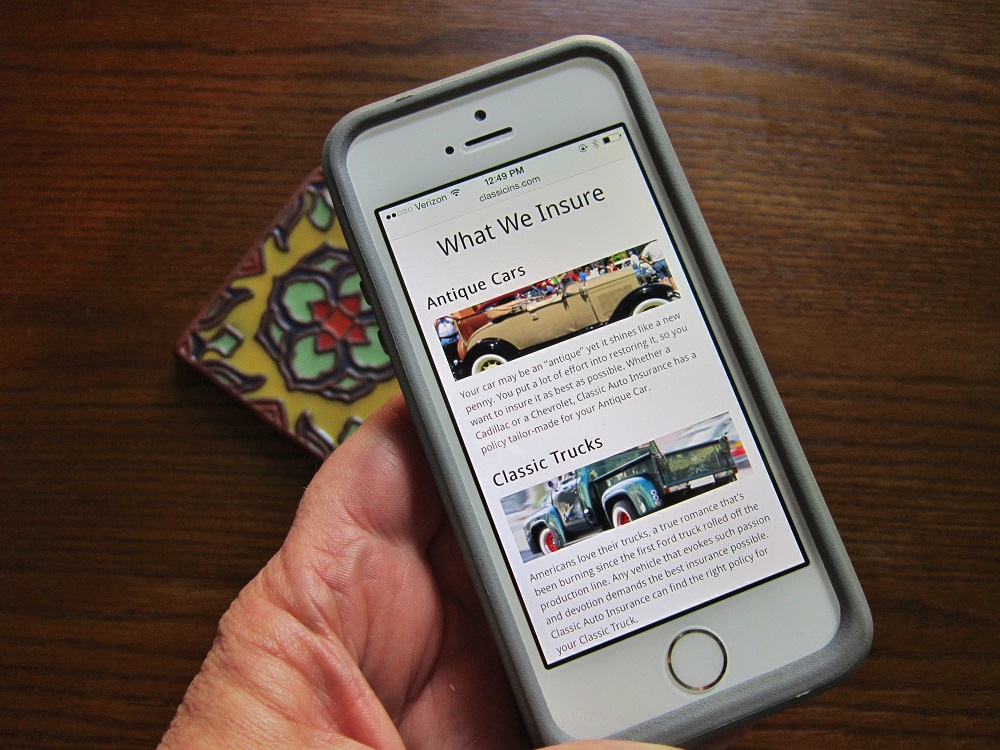 Evolving to Meet Challenges
Chris: As our content strategy has evolved over five years, one of the next steps is … engaging the audience with good, old fashioned email! Delivering Classic Auto's content to an interested audience in that personal way and seeing what type of engagement is there.
Thomas: The influx of competition from companies like Progressive, Geico and State Farm, the millions of dollars of new ad spend, industry consolidation and how it all affects mobile is the greatest challenge we face now. Three or four years ago, 10 or 12 percent of click volume came from mobile, now it's 40, 50, sometimes 60 percent. It's difficult to compete, yet we simply look harder for opportunities where Classic Auto can be competitive at an affordable cost.
Earlier this year, Classic Auto's insurance underwriter made it possible for us to start tracking insurance quotes back to the source. We'll now have the ability to see where quotes are being generated, which makes us more efficient in terms of managing the spend. We have worked closely with Classic Auto to develop tangible business metrics that can inform online marketing decisions.
Driving Thoughts
Thomas: The most successful partnerships EverEffect has are with companies that share their business outcomes with us. Drew and the team at Classic Auto have been most excellent in this respect. And I am sure one of the benefits that we bring to the table is the ability to evolve. When we engage with partners like that, we get results.
GET TO KNOW EVEREFFECT
Every week or so, we EverEffect folks get together at a virtual roundtable to discuss business. Industry trends, creative strategies, favorite campaigns, tricky projects, compelling statistical evidence –anything is in the mix and everything is up for a talk-through. Then we share it all with you on the EverEffect Blog. If you're curious about what we're thinking, give our posts a read. Or give us a call at 888-506-2183 for a face-to-face.