EverEffect Can Help Ecommerce Businesses
We Get Results – TulsaChain.com
"We are seeing big growth."
-Mike Robertson, President, TulsaChain.com
EverEffect and TulsaChain.com are wrapping up an amazing first year of working together in 2019. TulsaChain.com is an e-commerce site that sells rigging supplies for oil rigs and other industrial applications. It's a niche site that is doing a huge amount of business.
Through a combination of improved strategies with Google Ads and Microsoft Advertising placements, EverEffect has helped TulsaChain.com see a massive improvement in its leads, conversions and, most importantly, revenue. Since EverEffect is a Google Partner, this of course helps all of our clients see maximum results.
TulsaChain.com has experienced a revenue increase of 119% in year one with EverEffect managing their PPC strategy.
The most successful partnerships EverEffect has are with companies that share their business outcomes with us. The team at TulsaChain.com is amazing in this respect. And one of the main benefits that EverEffect brings to the table is the ability to evolve over time. When we engage with partners like this, we get results.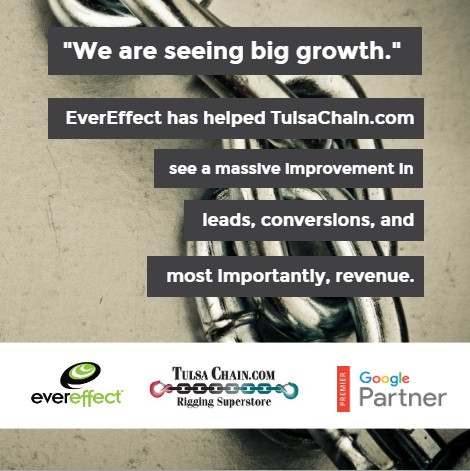 If you're a small to mid-sized e-commerce company and you're ready to:
Transform your site into the ultimate shopping destination that translates into sales
Diminish the Amazon "squeeze" and create custom shopping campaigns that outshine the competition
Give your customers the best and most mobile-friendly shopping experience that keeps them coming back for more
Entice social media influencers who will talk up your brand
Your business will benefit from a partnership with EverEffect. We have years of experience growing e-commerce businesses in a variety of industries. We know what it takes to optimize an inventory that contains thousands of products, what the investment entails on both sides of the coin. This time-intensive work is well worth the effort, especially when you factor in the cost of not accomplishing this goal: you won't provide that fabulous shopper experience today's consumer demands, you won't give that instant gratification of finding the exact product the first time, you won't make that sale because you simply aren't ready.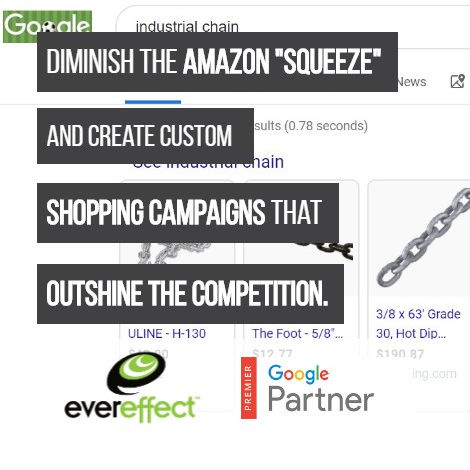 The Power of "IF"
IF you want to make more money (you know you do), we do a deep dive into analytics to find out how your business makes money in the first place. Where are sales most plentiful geographically? We can increase your revenue by repurposing funds to where we know your business is coming from. We will also save you money to make money – we saved our ecommerce client $360,000 in the first year of our partnership simply by eliminating wasteful spend on keywords that didn't create business for them (ask us about it).
IF your ecommerce site is user-challenged, we will work with you continuously – to optimize browser titles, rework page headings and develop accurate keyword-rich product descriptions that not only make it easier, faster and more satisfying from a consumer standpoint, it will boost your search engine traffic and conversion rates and help to achieve top search engine rankings for your business. We will engage your customers with ongoing original articles on topics relevant to them and your brand and we'll also improve your mobile-friendliness and make sure those on-the-go shoppers are finding you in their travels.
IF your shopping campaigns yield lackluster results
(or you need one built from scratch), we will constantly evaluate which products are selling and which are selling profitably. As a
Google Partner
we are specially certified in creating and managing Google Ads shopping campaigns, merchant center accounts and product data feeds as well as search, display, mobile and video advertising. We drill down to the keyword level, always looking for opportunities to either save you or make you more money, using detailed reporting other agencies don't have access to.
EverEffect is a Google Partner and has exclusive access to Google expertise – a distinction given to less than 5% of all Google Partners worldwide. Our status is based upon successful client retention and our performance vs. our agency peers.  Now, we can help our clients and potential customers learn the latest industry trends and how to best leverage them through exclusive webinars with our Google experts.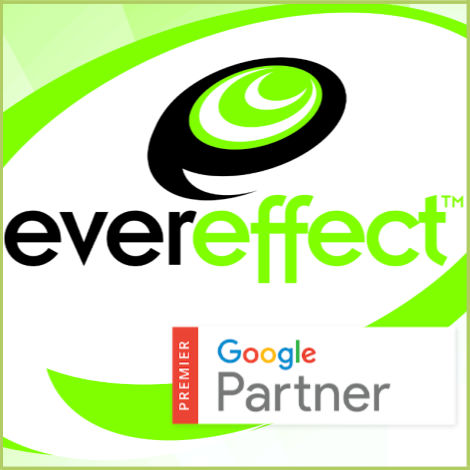 IF you have underperforming merchandise,
we'll discover which products are killing your profitability. By testing their viability for the digital stream, analyzing the data over time and eliminating products that can't be profitable, we can increase your ecommerce revenue by two and a half times or more.
IF you sell unusual products that require a unique selling method, we will find a way to track sales. For instance, our ecommerce client that sells high-priced merchandise achieves 95% of their revenue from sales by phone rather than online transactions. We hooked them up with a third party phone tracking tool that cross references calls coming in from their Pay Per Click ad campaigns. Now we're able to report sales numbers and how the campaigns are fitting in with their revenue goals.
IF your sales efforts can benefit from video advertising, you're talking to the right people. Let's face it – not only is video the future of digital storytelling, YouTube is the #2 search engine in the world behind Google. If you don't think your would-be customers want to learn how to use your products or look at them in someone's hands before they buy, consider this: 64% of GenXers bought a product or service they saw in a YouTube video while learning how to do something. In this way, YouTube performs better than network TV, cable, satellite and the rest of the internet. And we are experts at producing top-quality video content that's engaging, relatable and authentic. We also have our finger on the pulse of breakthrough ideas, so when YouTube's new direct buy service is launched (and it's coming), you'll be ready to party.