The Pillars of a Digital Marketing Strategy (Why Multi-Channel Marketing Wins the Game!)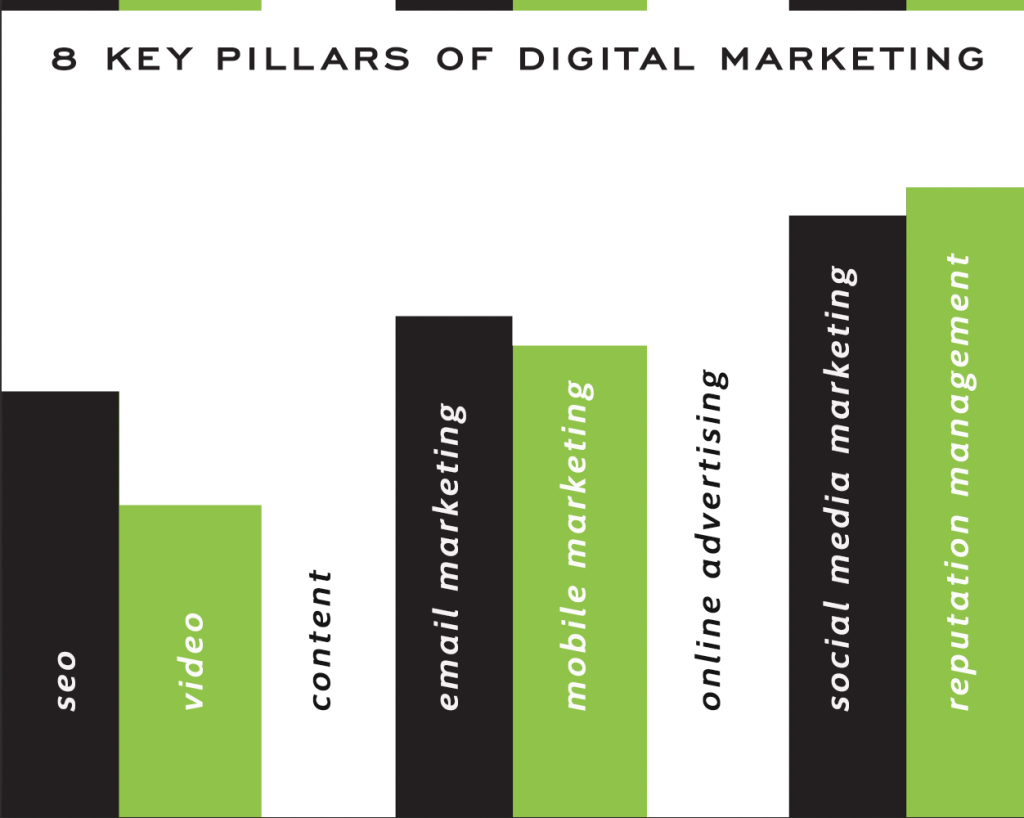 Multi-channel marketing is a method of marketing that utilizes a combination of direct and indirect promotional and communication channels to interact with customers. Marketing your brand across various channels enables you to increase your presence and brand awareness, and expand your reach to a variety of audiences.
Today, multi-channel marketing is essential if you want to attract consumers, increase conversion rates, and boost sales. This is because the modern-day consumer uses a variety of digital channels themselves when accessing the internet. So if you want to be seen, you have to be where your customers are.
Traditional marketing channels such as print and broadcast on TV and radio are still present, but the majority of today's consumers admit to getting their information primarily from the internet. So marketing to modern, tech-savvy consumers requires a modern, digital multi-channel marketing strategy.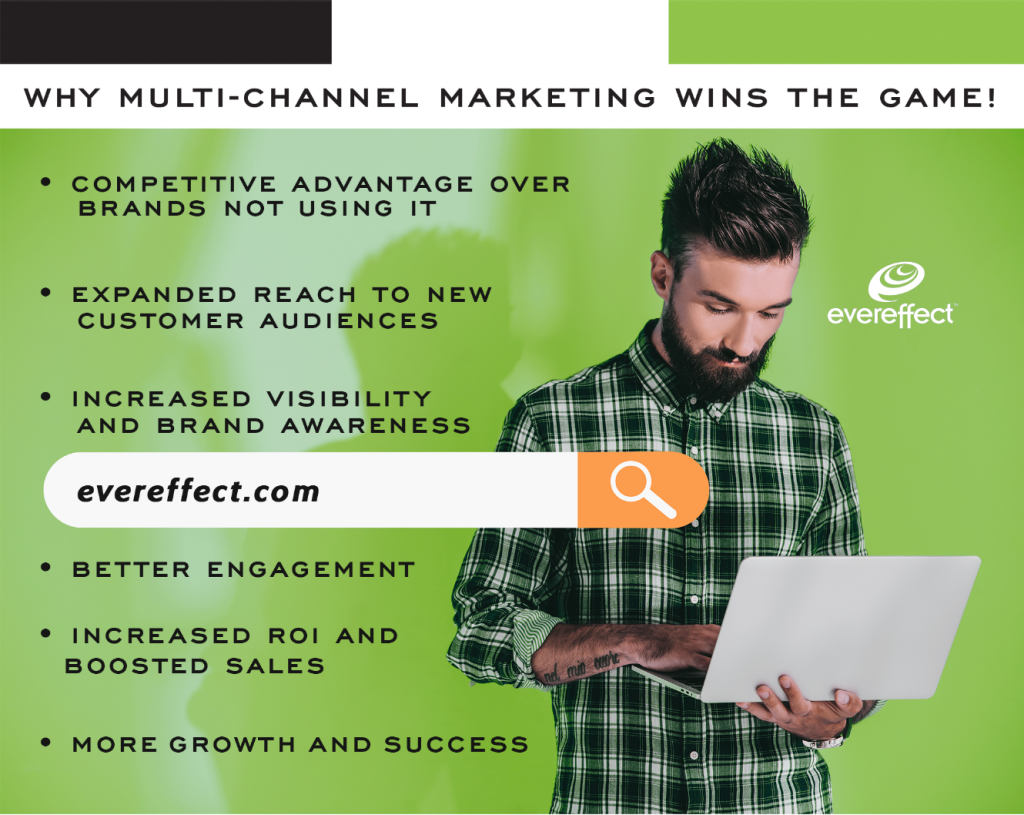 What Are the Benefits of Muti-Channel Marketing?
Multi-channel marketing is essential—there is no doubt. Yet, a surprising number of brands admit to not using as many channels as they could, all while knowing that they should. Not only do brands with multi-channel marketing strategies see a greater increase in returns, but 72% of consumers also say they would rather connect with brands through multi-channel marketing.
Overall, there are numerous benefits to developing a multi-channel digital marketing strategy, including:
Competitive advantage over other brands not using multi-channel
Expanded reach to new customer audiences
Increased visibility and brand awareness
Better engagement with customers, which means better customer relationships
Increased ROI and boosted sales
More growth and success
It's important to note, however, that though multi-channel marketing is essential, you can face some challenges if you don't have a quality strategy. These can include poor management, inconsistent and uncoordinated efforts, lack of useful data and research, and inadequate targeting.
Of course, there is always some risk involved when you start implementing new practices and strategies. Still, you should not be taking more risks than is necessary. This is why it is crucial to work with a professional digital marketing agency that has experience and knows how to create a thorough strategy specifically developed to meet the needs of your unique brand.
8 Key Pillars of Digital Marketing
When developing a multi-channel strategy, it's important to first conduct a thorough analysis of your brand and your customer base to find what channels are right for you. You want a strategy that helps you meet your goals, and that will target the right audiences. From there, it's crucial to establish your multi-channel marketing platform and ensure consistent customer experiences across all channels.
Below are the most essential pillars of an effective multi-channel digital marketing strategy:
1. Online Advertising
Paid online advertising, also referred to as paid search or PPC advertising, is a must when it comes to your multichannel strategy. Other channels and types of marketing content are essential, but it can often take time to see the results that come from those efforts. In contrast, PPC advertising can be set up quickly and deliver results almost immediately.
With PPC or pay-per-click advertising, you are essentially paying a price every time someone clicks on your ad. Though some believe this method is too expensive, brands who use PPC see a much higher return on ad spending than with other ad methods.
This is because PPC ads only run when they are relevant to a specific customer. So instead of paying to run an ad continuously, you are only paying when the ad targets the right customer, and that customer takes action by clicking on the ad.
2. Content
Content should form the foundation of your overall marketing strategy. This is because quality content can help you improve your search engine rankings and it provides a value to your customers that keeps them coming back.
While other marketing methods are about interactions that get your customers to take action quickly, content can be more engaging and provides the customer with quality information that helps you connect with them and establish a relationship. And building quality customer relationships is key to boosting brand loyalty and sales.
In general, content can include different things, but most often, it refers to website content, such as blogs, landing pages, and page copy. When your website has quality, informative content, it will help you yield more traffic and convert more leads.
3. Email Marketing
Emails are a great way to remind your customers that you're there, helping you stay at the top of their minds. Consumers today follow so many brands that it can be hard for them to keep track of them all. So it's essential to find ways to put yourself in front of them as often as possible to keep them coming back—and email is a great way to do this.
Emails work not only like an ad that reminds your customers about your brand, but it's also another way to create engaging content that helps you connect and build relationships. Emails are also key when you are running sales and promotions or when new products launch.
Email marketing is also essential for generating leads. You start by building up an email list through sales funnels, and then you convert those leads into customers by providing them with value through your email content—letting them know that you appreciate them, sending them new customer offers, etc.
4. Mobile Marketing
The majority of today's consumers say they access the internet through their mobile devices, which means mobile marketing is essential if you want to appear in front of your target audience. Mobile marketing can include SMS and MMS campaigns, as well as creating mobile-friendly content that can be accessed through various mobile distribution channels.
Mobile is also one of the best ways to increase your local presence. Mobile marketing can be used to target consumers that are nearby your local brick-and-mortar location. This is essential for any business because, while website traffic for e-commerce transactions is key, it's also good to drive traffic to your physical storefront. Customer interactions in-store are more engaging and help you build better relationships and establish customer loyalty.
5. SEO
SEO, or search engine optimization, is the hottest buzzword in digital marketing today. And while understanding exactly how SEO works can be a bit confusing, it's actually quite simple. SEO is a method or strategy used to optimize your content to help you improve your search engine rankings, which is key to driving traffic to your website to increase conversions and boost sales.
Of course, optimizing content can involve numerous strategies, but most often, it is about conducting research to better understand your audience and then using certain terms and keyword phrases to attract and target that specific audience. By using key terms in your content, you can provide more relevant content that appeals to the questions your customers are asking when they perform a search, thus enabling you to appear higher in search results.
And improving your search engine rankings is not only key to reaching your target audience, but it is also essential when it comes to beating your competition. If multiple companies like you offer the same products or services, one of the best ways to ensure customers choose you over them is to use SEO to boost your rankings.
6. Reputation Management
Establishing a good brand reputation is another important element of digital marketing. Customer relationships and customer loyalty are key if you want to keep people coming back again and again. If a customer loves your brand and what you offer, they will be loyal to you, and they will also recommend you to others they know.
So, when developing a marketing strategy, you want to not only consider what channels to use and what customers to target but also how you want to present yourself as a brand. What your brand is, who you are, and what you stand for are all things that help you create brand awareness and build a reputation.
So when you choose a marketing company to partner with, it's essential to look for an agency that doesn't just offer you a lot of options to expand your reach but one that also cares about who you are as a brand and helps you establish a good reputation with your customers to improve customer relationships and brand loyalty.
7. Social Media Marketing
When consumers admit to primarily using the internet and their phones to interact with brands, what they are typically referring to is using social media. There are nearly four billion users across various social media platforms, and consumers admit to being more influenced by social media than anything else when it comes to choosing which brands to interact with.
In fact, consumers are six times more likely to make a purchase based on something they saw on social media. Thus, having a social media presence on as many platforms as possible and developing a quality social media marketing strategy is crucial for brands.
8. Video
Media or video content is one of the most engaging and authentic kinds of content you can have—which is essential to appealing to target audiences. When consumers have video content to interact with, they are generally more engaged, more satisfied, and more likely to take action.
This is because videos provide such high value to consumers. They can be funny, informational, artistic, etc. There are countless things a brand can convey with video content. Consumers also tend to feel that video content is more authentic and relatable, which means they are more likely to feel connected to a brand and will thus be more likely to remain loyal and continue making purchases.
EverEffect: Your Premier Digital Marketing Partner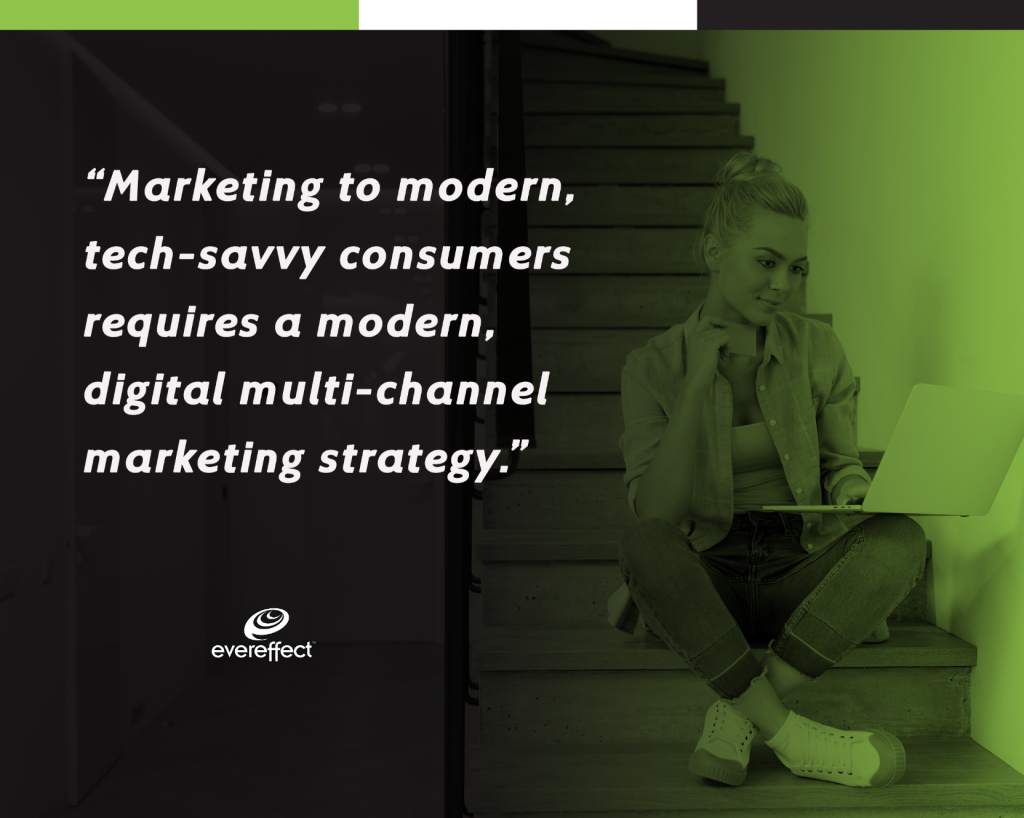 No matter the size of your company, whether you are a small business or a larger, well-established company, multi-channel marketing is essential. However, no two marketing strategies should be the same, so it's important to find an agency that will get to know your brand and your specific goals to ensure you are appearing on the right channels and in front of the right audience.
At EverEffect, we'll do all that and more! We don't just provide the typical marketing services; we will manage your marketing campaigns and strategies from start to finish and continually check in to ensure everything is working according to plan and make adjustments as needed. If you aren't satisfied, we aren't satisfied.
Contact us for a free site evaluation today! Or give us a call at 888.506.2183.