4 Questions About Digital Marketing Agency Pricing
Deciding how much to spend on digital marketing is a vital but overwhelming task that depends on your specific goals, marketing budgets, and timelines. It is important to feel confident about the company you partner with and to know what you are looking for — whether that be Search Engine Optimization (SEO), Paid Search, Website Design, or other services.
But there's a problem… How do you know if you are being overcharged? How do you know exactly who you can trust?
Below are some questions (and answers) related to Digital Marketing Pricing.
Frequently Asked Questions About Digital Marketing Costs
#1 – Is it always best to go with the low, low, low price?

The simple answer is — no, no, no!

While you want to get value for your money while not overspending needlessly, you also don't want to falsely economize. Instead, consider the size of your company, your growth plan, and your revenue per customer (RPC).

Sure, miracles occur, but as grandparents love to proclaim, "You get what you pay for!" Sometimes the difference in price is minimal, but you definitely want to work with an experienced agency with a proven track record.
Another thing that really hits a nerve with us is seeing ads pushing $299 or $399 per month for SEO Services. These guys provide a basic audit and no on-going services.
These offers give the entire SEO industry a bad name. You sign up based on the price and after 6 or 9 months you find out they are doing nothing to help your business online.
There are some honest agencies out there, and we will tell you that to really move the SEO needle for your business, it is not cheap.
We also understand that many businesses DO NOT have the $3K to $5K per month to push the accelerator down all the way on SEO.
The EverEffect Team has come up with a Full Service SEO Program for small businesses. At $925 per month, it's not the cheapest, but the Program has a well-rounded set of services that will help you grow your business online.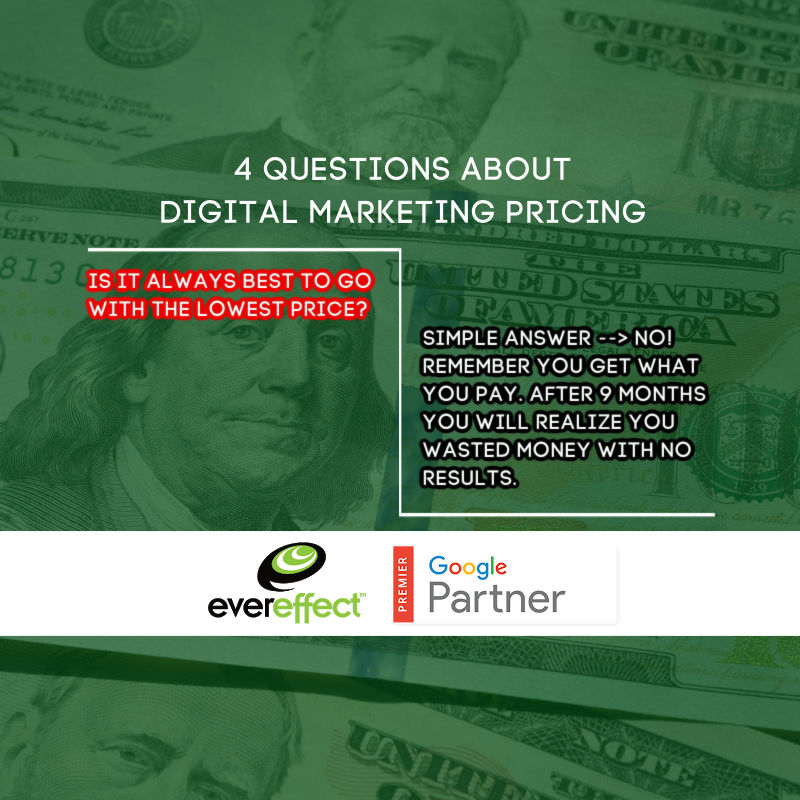 #2 – What factors influence digital marketing pricing?
Size of your own company: Obviously, the more revenue you generate, the greater your budget (and vice versa). Ultimately, as Forbes Council Member John Keehler says, "You can't spend what you can't afford."
Experience of the agency you partner with: You want to hire an agency with a proven track record. For example, EverEffect has been helping to improve business for small, mid-size, and large businesses for over 13 years. We can create true quality content to engage and delight your audience.
Your company's timeline: Sometimes prices rise depending on deadlines and the need for quick turnarounds. Flexibility can be a plus, but don't be afraid to pay more if you need digital marketing expedited. These days, more than ever, time is money.
What your agency can offer uniquely: EverEffect is a Google Partner whose team members' combined experiences include a wealth of knowledge and successes in digital marketing. Less than 5% of agencies worldwide qualify as a Google Partner.

#3 – What factors should you consider when researching the costs of digital marketing?
Well, price, of course! You don't want any nasty surprises, so delve beyond website ballpark figures and ask for a custom quote.
Deliverables. Make sure that you know exactly what your agency is going to offer you in terms of services. Look for specifics and transparency.
Methods. Again, this comes down to customization. You need a company that will work to know your business thoroughly and to provide exactly what you need. EverEffect creates solutions based on finding your ultimate competitive advantage.
#4 – Why should my company invest in digital marketing? What can it do for us?
Quite a lot, actually, although if you have read this far, you are probably already convinced of that!
Quite simply, you need digital marketing to foster your company's growth. Did you know that U.S. digital marketing spend will near $120 billion this year? That is no drop in the bucket! This forecasts that digital marketing will account for 46% of all advertising in 2021.
Digital marketing increases revenue. With vital tools such as Search Engine Optimization (SEO), your company can reach more potential customers. This should be an ongoing strategy that leads to greater ROI.
Digital marketing increases the awareness of your brand. Although social media marketing and content marketing may not have immediate pay-offs, they focus on the interests and needs of your potential clients. By engaging across social platforms and creating fresh content, you will build brand awareness. Social media campaigns involve creating a customized strategy that looks at what your competitors are doing and how your business can stand out. This will lead to brand loyalty that increases your revenue down the road. Who doesn't want increased conversion and lead generation rates?
EverEffect creates engaging video content, and we can also create compelling digital display ads that can reach your potential customers on over two million websites and 650,000 apps. These can help you connect to your potential client at every stage of their journey.
Digital marketing keeps your business competitive. You are not the only business around — you need to stand out from the other fish in the sea. EverEffect can help find your ultimate competitive advantage.
Your Premier Digital Marketing Partner
Whether your budget is large, small, or somewhere in between, do your research and look for reviews before you decide to partner with a digital marketing company. You need a trustworthy company with experience and a commitment to your unique needs. EE is that company! EverEffect is a team of dedicated professionals who are experts in strategic planning, interactive development, and data-driven analysis. Let us show you what we can do for you!
Why not start with our Free Site Evaluation? Contact Us or call 888.506.2183