Increasing PPC Traffic Should Not Be A Goal (Alone)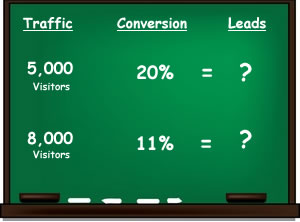 You can see the headlines everywhere, screaming across the internet: "How To Get More Hits! Increase Traffic Instantly! Guaranteed Visitor Increase!" With so many articles, websites, ads, and businesses devoted to this subject, it would appear that increasing clicks on your advertising and bringing more people to your website is one of the most popular goals of PPC advertisers. I'd like to throw a wrench in all of this, though, and argue that getting more traffic should not be a goal.
Sure, having ads that float along on search pages without any clicks shouldn't be a goal, either. Obviously we all want users to click on our ads and visit our websites. However, getting that click isn't doing you any good on its own, and has only served to increase your advertising costs. It's what happens after that click that really matters: the actions taken by users once they arrive at your site. The conversions are what you're really after, since that's what will ultimately bring you what you want—sales, form submissions, phone calls, information requests, etc.
So, what does this all mean for the management of your PPC account? It's simple: don't aim for higher click volume alone. Set your sights on conversions, and look to raise your click volume with that separate end goal in mind. Check out your statistics on a regular basis, and if you're knocking it out of the park in click traffic resist the urge to relax and let it ride. Make sure that those clicks are working for you, and if they aren't, it's time to make changes.
Use plenty of negative keywords to weed out irrelevant traffic.
Don't rely on broad match keywords alone: phrase and exact match may bring less traffic, but, provided your keywords are relevant, they'll bring more qualified traffic.
Check your ad text: it should be relevant to your keywords and website, enticing and attention-grabbing, and include a specific call-to-action for users.
Yes, if you implement some of these suggestions there's a good chance your traffic numbers may go down. This is not necessarily a bad thing: it's much better to have less click volume and more conversions, than to have higher volume with fewer conversions. If you do the math you'll soon discover that the former results in a much higher ROI, and your campaigns will be more successful overall.
Do you have any more suggestions for increasing conversions, or information about increasing or reducing click traffic? We here at EverEffect would love to hear it!