How to Create Great Performance Video for YouTube
As digital marketers, we sometimes think of search as a science, video as an art and never the twain shall meet.
Video is a powerful medium for our clients because it engages at least two of the five senses at the same time -sight and sound. Video is also incredible at eliciting an emotional response from a viewer and speaks to the heart. While so many of video's attributes appear unscientific, imprecise – not things that can drive efficient performance, there is a place where digital marketers and their clients can find the best of both worlds.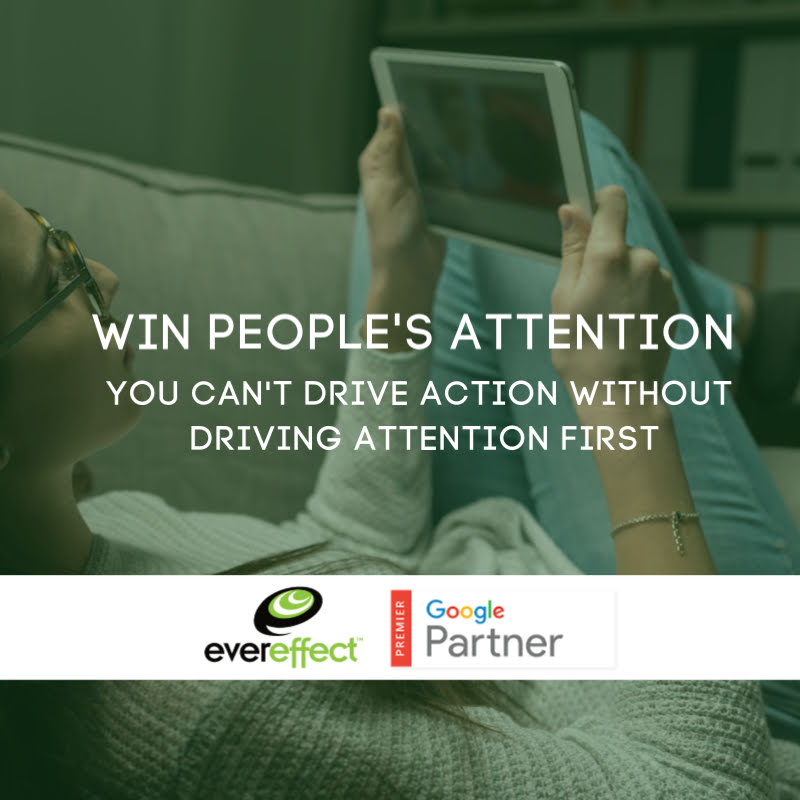 That Place Is YouTube.
YouTube has built a set of tools to help digital marketers create effective video ads that also work with the precision and performance of search.
Advertisers on YouTube can target audiences with intent signals – data that looks at the reasons people research a product online before purchase, for instance, which allows advertisers to help them choose their product with relevant, useful messaging to do so.
More specifically, YouTube advertisers can reach audiences who recently searched their keywords on Google. With audience intent signals from other Google products -like Maps, Shopping or the Google Display Network- YouTube advertisers can reach audiences based on their purchase intent, life events, shopping patterns and more.
The majority of people reachable on Google Search are also reachable on YouTube, so you can reach undecided shoppers at scale with YouTube. Plus, not only can viewers skip YouTube ads when they're not interested, they now have way act when they are interested, such as a click to buy option, visiting a landing page or downloading an app.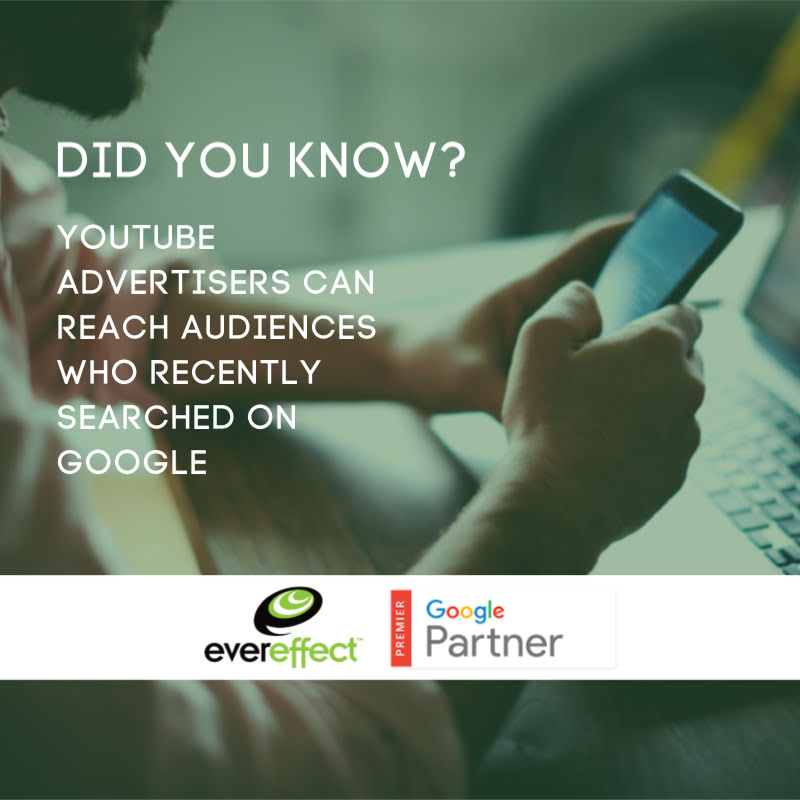 How to Make Video Work for Performance
Most of us have a basic sense of what makes good creative. We know when we're being sold to. We also know when we see video that makes us want to watch, that holds our attention, that convinces us to respond.
Writing and producing these kind of awesome video ads is a job for creative experts like EverEffect's own Ron Tupper. "When our clients ask me, 'What is Performance Video?'" he says, "I tell them it all boils down to a combination of three solutions that enable them to drive performance on YouTube."
In-Depth Guidelines For YouTube Performance Video
#1 – Edit for Mobile Devices
+60% of all YouTube video is viewed on a mobile device and this is increasing every year.
"For mobile, stick with bigger, brighter, tighter and faster." A simple way to gut check whether creative is built for mobile is to imagine watching the ad on a small screen with power-save mode on (meaning the brightness is low). Dark, dramatic ads with slow builds and small font work great on a 55-inch TV screen, but they could make the ad mostly invisible on a phone. Stick with:
larger text and graphics
brighter footage
tighter framing
faster pacing and cuts
#2 – Design to Earn Attention
Start high and win people's attention, because you can't drive action without driving attention first.
"Earning viewer attention is essential to performance-driven creative on YouTube." YouTube is unique because viewers have the ability to skip ads, which means ads must earn attention and make people want to watch."
We find great ads on YouTube usually follow what's called the emerging story arc, which starts fast and keeps cooking, with messaging placed at unexpected moments to surprise and delight the audience. "If the traditional story arc progressing through appetizer and dinner, then dessert, the emerging story arc is definitely desert first."
Traditionally, 15- or 30-second television spots have a slower build-up to the point. On YouTube, the most effective ads drop you into the action right away. Keep in mind viewers can skip after just five seconds of watching, so it's important to "start high."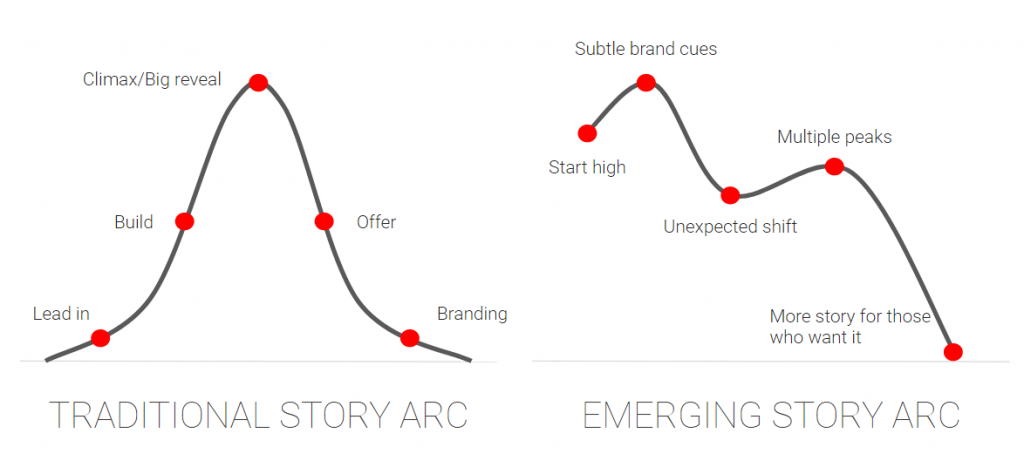 #3 – Design to Drive Action
Prove it's working and optimize towards success.
In our experience, a great performance video ad is built around a clear offer or call to action. Great performing video ads typically lead with the offer that is made clear throughout the entire ad.
"It's not rocket science, but it's important to remember you only have five seconds to earn a viewer's attention." Why do we talk about attention first? Because attention is often a prerequisite for driving action.
Ads can earn attention by being entertaining and they can also earn attention by being useful. So it's okay for some ads to actually feel like ads, so long as they meet a viewer's underlying purchase intent.
In today's world where everything is skippable and consumers have great choice and control, it's hard enough to stand out and earn attention. However, the very nature of YouTube already has attention built right in*, which is why it's a great platform to place a video ad that's designed to drive action – some of the work is done for you.
*publishing suggestion: include a link to the other YouTube blog post (s).
This is the point of performance video – using video to drive clicks, conversions and other actions.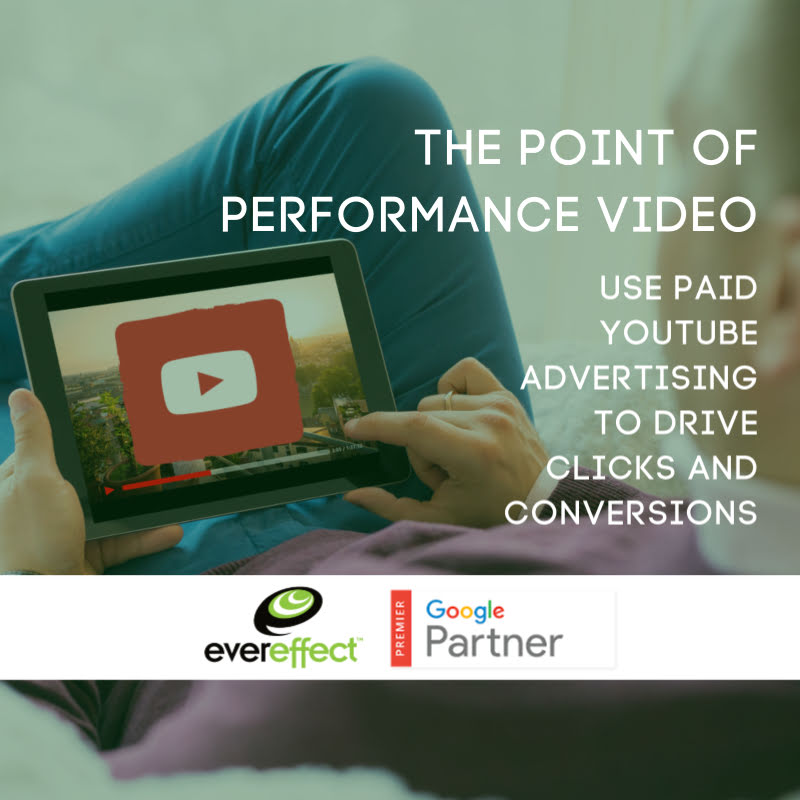 Next Step: Get to Know EverEffect
Ready to rev up your YouTube strategy?  As a Premier Google Partner, EverEffect has exclusive access to Google expertise – a distinction given to only a select number of Google Partners worldwide. Now, we can help our clients and potential customers learn the latest industry trends and how to best leverage them through exclusive webinars with our Google experts. It's just one of the great benefits that come from the experience, dedication and results-driven success our clients receive. If you're curious about what we're thinking, give our posts.