Digital Marketing Planning for Sports Physical Therapy Clinics
A digital marketing plan is a report that outlines your marketing strategy for the coming year, quarter or month. You create a marketing plan because, as a business owner, you want to make sure your marketing dollars are being spent in the most productive way possible.
In order to put together your marketing plan, you'll need the following information:
Who is your audience? You probably have a good idea of who needs your services. The American Physical Therapy Association (APTA), and savvy marketers know that your physical therapy marketing efforts will be most effective if they are highly targeted.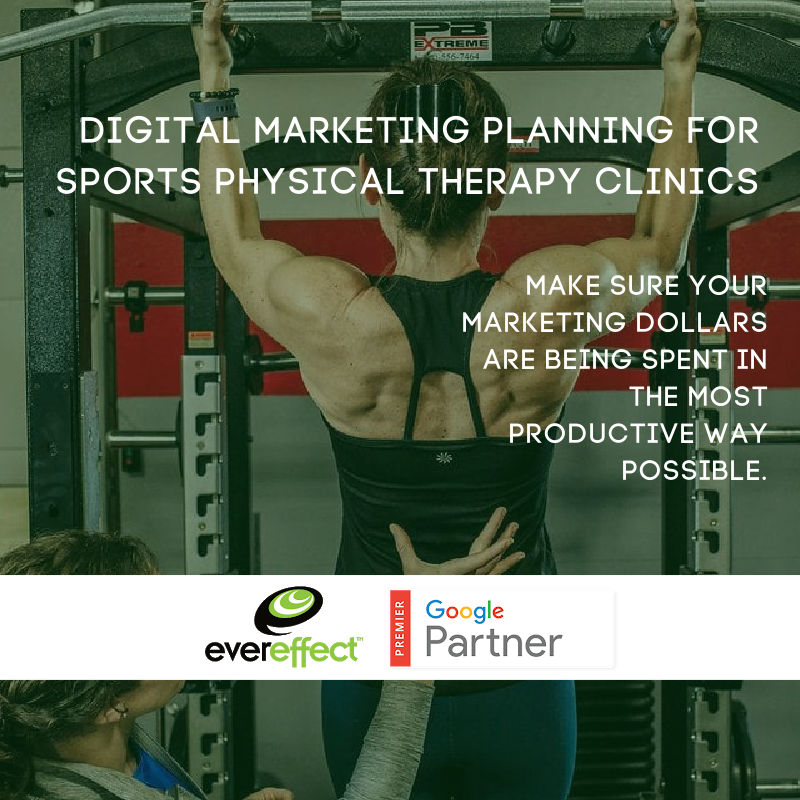 This means taking a deep dive into the characteristics of your potential clients, including knowing things like age, gender, income brackets, where they live, and even what types of publications they read.
To identify your target audience, look for the common characteristics your current patients share. Then ask yourself and answer the following questions:
Why are your services needed?
What motivates your audience to seek your services?
How do your potential customers learn about the services you provide? This answer could include publications, the web or even postings on a coffee shop notice board.
Who (or what) has an influence over your audience's buying decisions?
Understand Your Competition
Scope out your neighborhood. Who in your area provides similar services? Be sure to think beyond physical therapy and look at who offers any sort of wellness services like yoga, pilates or chiropractic.
Now, take a hard look at what services you offer. How do they stack up against the competition? And how are they different? What makes you different?
What's the State of the Sports Physical Therapy Industry?
To be a successful marketer, you must stay up-to-date on industry trends. And this includes the complete healthcare landscape.
Understanding the trends that affect the entire medical community means you can change your marketing as market conditions change.
Choose three or four news sources you can trust, subscribe to their blogs, and follow them on social media. And if you get the chance, participate in a survey designed to unveil trends about the current and future state of the rehab therapy industry, such as Evidence In Motion's State of Rehab Therapy Survey, and then be sure to review the results. You'll discover opportunities and performance drivers affecting rehab therapy professionals and their organizations.
Formulate Your Local Digital Marketing Strategy
Now that you've answered some questions and gained a better understanding of the rehab therapy industry, as well as your target audience, it's time to brainstorm!
This is how you decide on the marketing strategy that fits your particular clinic and your patients.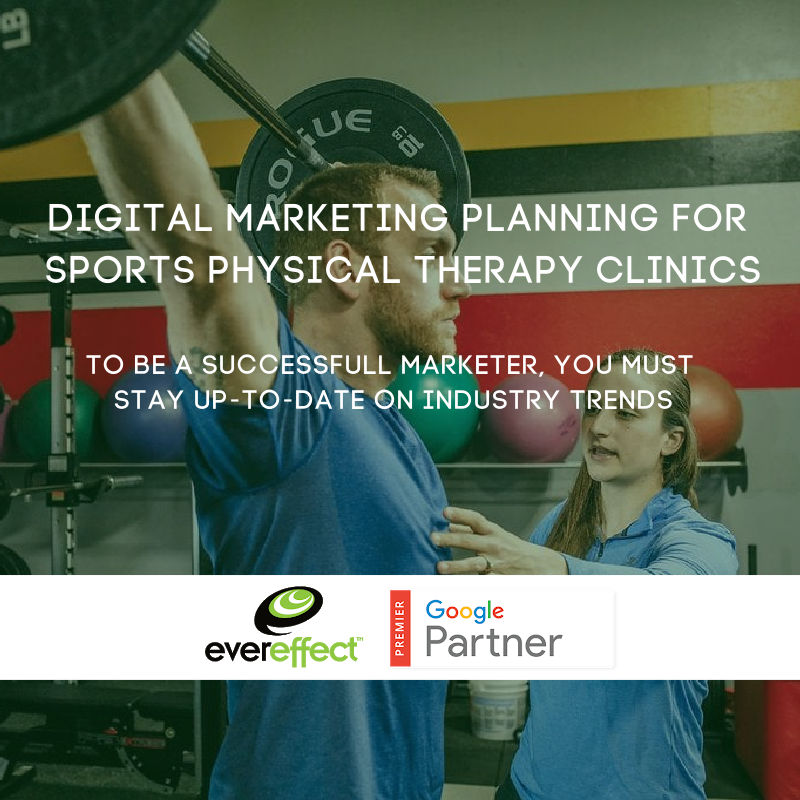 Get your creative thoughts flowing by asking yourself some additional questions based on what you've already learned:
Which marketing tactics will you use to get your services noticed?
When, and with what frequency will you market your services?
What are your marketing goals? Think in terms of growing your business on an annual basis.
How will you measure the success of your marketing?
What's your budget? There are three different ways to set a budget:

Lean Plan: 1% – 2% of your top-line revenue. This would be a plan that would retain current customers, but not add a lot of growth.
Target Plan: 3% – 4% of your top-line revenue. The goal of this plan would be to attract new clients as well as retain current ones. This would be ideal if you want to increase your presence in the market and have an annual growth goal of 10% to 15%.
Stretch Plan: 5% or more of your top-line revenue. This means your goal is to accelerate your results. This option is ideal if you have ambitious growth plans of 20% or more annually.
Visualize how you want your practice to be in a year. What about in five years?
Write Your Digital Marketing Plan for Your Physical Therapy Clinic
After you've thought about all the above and answered the questions, it's time to start writing your marketing plan by following these steps:
Define how your marketing plan will support your overall business goals.
What is your purpose? What do you want to accomplish, and why?
Define your audience and outline current market conditions.
Outline your marketing strategies.
Lay out your communication and messaging tactics.
Decide on your budget.
Detail how you're going to achieve your goals within your budget.
Establish how you plan to measure progress.
Investigate opportunities for long-term marketing plan development beyond your current planning.
Next Step: Get to Know EverEffect
Ready to rev up your Digital Marketing for your Sports Physical Therapy Clinic?  As a Google Partner, EverEffect has exclusive access to Google expertise – a distinction given to only a select number of Google Partners worldwide. 
We can help our clients and potential customers learn the latest industry trends and how to best leverage them through exclusive webinars with our Google experts. It's just one of the great benefits that come from the experience, dedication and results-driven success our clients receive. Tell us your story via our online contact form or give us a call at 888-506-2183 for a face-to-face.