New episode of The EverEffect Zone: "The Four-Legged Barstool"
Spooky.
[music up & under] Rod Serling-type voiceover begins…
Use a key to unlock the door to imagination. Beyond it lies another dimension. A dimension of sight. A dimension of sound. A world of shadow and substance (creative & content); things and ideas (strategy & analysis).
Look. Up ahead. A signpost.
You are now entering the EverEffect Zone* …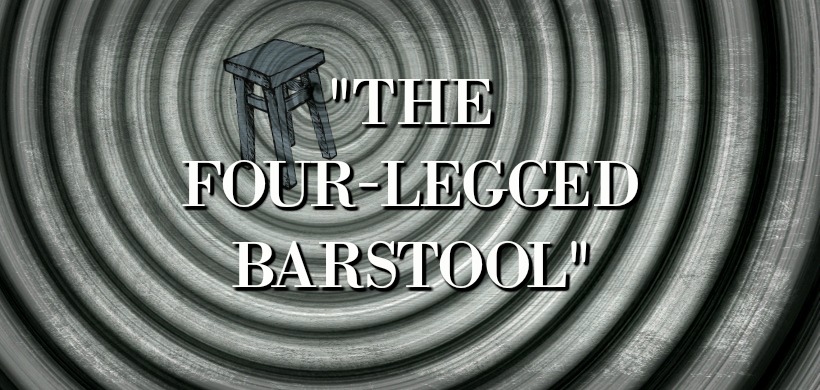 Submitted for your approval, the four-legged barstool. Each leg is a metaphor for success in the Digital Marketing world order…
Goal • Strategy • Analysis • Pursuit
Saw any one leg off, and you may have a cool and stylish – perhaps functional piece of furniture. Comfortable even, although somehow incomplete. Here's why.
Without a clear revenue Goal, or the desire to create one, a client dooms himself to a future of certainty. He coasts along, sure-footed … on a path to nowhere.
Omit Strategy, and a client may know where she wants to go, but not how to get there. She sends one single welcoming message to an eager crowd when three are a necessity. She uses a ready-made piece of design when only custom work will do. She falls back on text or html when video has already surpassed them both.
Leave out Analysis, and it's slam the door shut on understanding. What has he achieved? Why? How can what she has learned reinforce or redirect her efforts?
Fail to Pursue, and the pounding knock of Opportunity falls on deaf ears. A client waits for the action to come, while relentless follow-up opens more doors and closes more deals.
Here in the EverEffect Zone,
we encourage our clients to choose the benefits of the four-legged barstool whenever possible. Why? A three-pronged approach could probably work for them (they say if you do what you always do, you get what you always get, right?) … but a four-legged approach to success creates measurable results with demonstrable value.
GET TO KNOW EVEREFFECT
EverEffect Founder & President Thomas Heed and his team specialize in Paid Search, Technical SEO, Content Marketing, Social Media, Web Analytics, Conversion Optimization, Video Content, Infographics and Website Design. If you're curious about The EverEffect Zone, give our posts a read. Or give us a call at 888-506-2183 for a face-to-face.
*My inspiration for this post is Rod Serling's The Twilight Zone. His original stories are a strange mix of horror, science-fiction, drama, comedy and superstition. Well-known actors like William Shatner, Agnes Morehead, Burt Reynolds, Cloris Leachman, Robert Redford and more made appearances in this classic and celebrated TV series … where most of the episodes end with a surprise.