How Coupon Codes Killed My Memorial Day Shopping Experience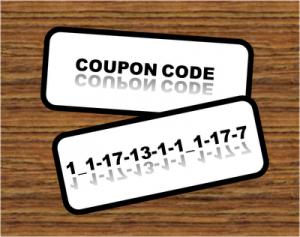 I absolutely dislike shopping in retail stores & malls; they are crowded, it's hard to locate what you're looking for, you're never sure if you're getting the best deal, and sometimes you run into untrained & unfriendly staff.  These are just some of the reasons why I believe internet shopping is growing at an incredible speed.  Couple that with the growing number of ways to access the internet: (computer, phone, iPad, iTouch) and you have a recipe that excites internet marketers like myself.
A few months ago I wrote a blog explaining some of the issues I continually run into with the checkout process of online retailers and at that time I overlooked one very important item—coupon codes.  Coupon codes have several names such as "promo codes", "promotional codes", "web deal codes", "web coupons" and so forth.  Any smart internet shopper will go to his or her favorite search engine and enter  "coupon code + store name" and dozens of websites are produced all saying they have the coupon I am looking for—sadly they rarely do and when they do have a coupon code that I want, it doesn't work.
This is where my frustration began; a few days before Memorial Day I started to receive a slew of emails all of which contained a coupon code or a click to obtain a discount offer. As mentioned I hate shopping but I consider myself an opportunist; if the deal is great, I will buy.  With that said, I ran into the following issues:
Coupon codes were heavily laden with disclaimers and rules.  Some of these rules were not easy to understand and left me frustrated when I researched an item, added it to my shopping cart and then I couldn't receive the discount.
The "click to receive discount" offers failed to work and no promo code was provided to ensure I could enter the discount in myself.
Some companies offered 15 -25% off but increased shipping fees to counter the discount offers.
Helpful tips to increase sales when using coupon codes:
Have a coupon code page that lists all offers and clearly states the disclaimers.  This will keep visitors on your website and they will always know where the coupons reside.  Plus you're likely to see increased organic traffic as some shoppers will do searches for coupon codes before ever visiting an online store.  In other words would you rather they find your coupon on your actual website, or on CouponCabin.com?
If you use a click to obtain discount offer, then display the coupon code when the user gets to the landing page.  That way, should the discount code not automaticly work, they can still obtain the discount that brought them to your website, without having to return to the source that sent them to your website in the first place, because they may not return a second time.
Make sure the discount codes work! If the coupon code is rejected for any reason, make sure you tell the consumer what the problem is.
One of the hardest tasks internet marketers have is getting people that are interested to the website, thus if your make them leave to find a better deal or frustrate them with broken forms, discounts or pages, you're likely to lose revenue because of it.  In the world of the web, the easier receiving discounts and searching is, the more sales you will obtain.