Snow Day Online Optimization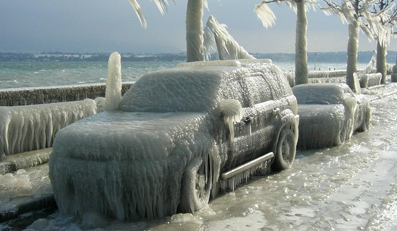 Sitting on my comfortable couch in my warm living room, looking out over our quiet ice-coated neighborhood, it's easy to assume that everyone else in town is hunkered down in a similar fashion thanks to the recent ice storm that's enveloped Indianapolis. While it may appear that everything and everyone has ground to a complete halt, it's important that Internet Marketers not underestimate the affect that snow days can have on their business.
Think about it. When you're holed up at home, with nowhere to go thanks to the condition of the roads, what are some of the things that you do (aside from taking naps and drinking hot cocoa)? Browsing the internet is at the top of my list, and I can guarantee that it's right up there for many others, too. Is your website ready for this onslaught of new traffic? Have you ensured that your ads are optimized, and that your budgets are set such that they're showing up as frequently as possible for those of us who are busy Googling, shopping, and e-reading?
Here are a few tips to make sure you're making the most of your snow days:
Give your website the once-over: are you prominently featuring any current specials? Is your checkout process easy and clearly defined? Are there any error pages or issues that you need to remedy?
Look into your ad scheduling: have you set your ads to run only during parts of the day, based on usual traffic patterns? If so, you may want to change this since these traffic patterns may not remain the same while many people are staying home during the day.
Check your budgets: based on the severity of the storm and the amount of time the news and weather folks estimate the town will be out of commission, you may want to adjust things so that your ads are showing more often for a day or two while everyone is snowed in. In order to keep your spend down this may mean reducing spend a bit later, when life returns to normal, but it's worth testing things out for at least the first day of the storm in order to see how click traffic and online conversions may improve.
Special offers: if you have a seasonal business that's big during the winter, or even if you don't, it may be a good idea to look into running specials while there may be increased traffic viewing your ads and website. See about featuring special 'snow day coupons' or other enticing offers to get consumers to your site.
The wonderful thing about online marketing is that changes are relatively easy to make, and none of the items on this list should require huge amounts of time and effort. This leaves plenty of time for you to get back to enjoying that cup of hot cocoa, and probably even an afternoon nap.
Do you have any additional tips for optimizing e-commerce during bad winter weather? Or any questions about the above recommendations? The folks at EverEffect would love to hear from you, so please leave a comment or two—good online conversation can help ease some of that snow day cabin fever…