You Need a YouTube Strategy. Here's Why.
It's no secret that Google is the #1 search engine in the world. But the #2 search engine might surprise you: It's YouTube. That's right, YouTube is now second only to Google in terms of internet search volume.
YouTube was born less than 15 years ago, the video-sharing site now dominates the visual marketplace. For 1.8 billion people, YouTube is a more relevant medium than network TV, cable, satellite, and most of the rest of the internet.
According to research firm, eMarketer, by the end of 2019 digital advertising will out spend traditional advertising.  This is a major advertising milestone, but should not be a huge surprise. Consumers have shifted to digital platforms and marketers are following right behind them.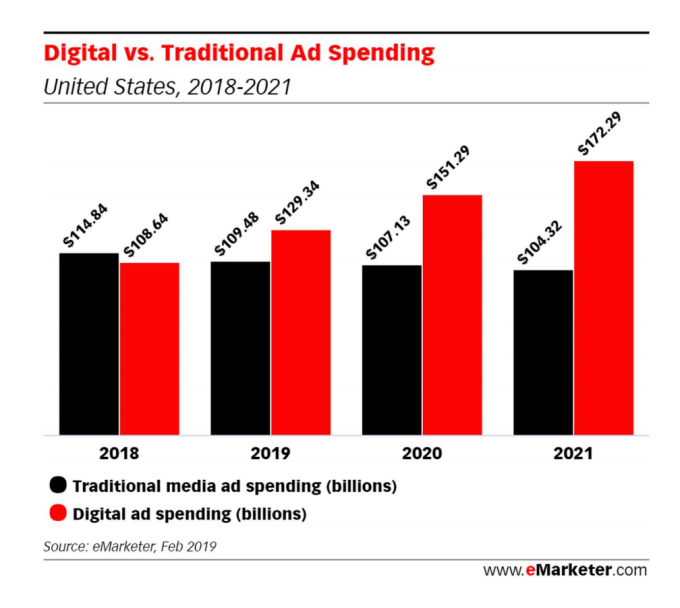 In case you didn't know: Google owns YouTube. So the two don't compete; they work hand-in-hand as they pursue world domination. YouTube is infused with the power of Google data.
Okay. Let's blow your mind with some YouTube stats:
It's time to develop a YouTube strategy. Luckily, EverEffect has plenty of experience helping clients launch YouTube campaigns. Here are some best practices from our experts.
Decide What You're Trying to Accomplish
First, you'll need to set some general goals for using YouTube. What are you trying to accomplish? Are you spreading brand awareness, or are you hoping to boost purchases of a specific product?
Discuss these goals with your team and/or digital marketing company. The more you pin down your goals, the happier you'll be in the end. YouTube offers great flexibility in marketing, but it doesn't really work unless you set specific goals.
Identify Your Audience and Stage
Speaking of getting specific, it's time to narrow down your audience and their stage in the customer journey. Your target audience isn't "all people in the world." It should be way more focused than that.
Your audience for YouTube videos can be identified by looking through your website stats, Google analytics data, social media feeds, buyer profiles, and more.
Your audience will naturally break into three main types of people:
Awareness Stage: Those who are unfamiliar with your products and options
Consideration Stage: Those who are undecided about what/whether to buy
Action Stage: Eager consumers who are ready to buy
Monitor Your Metrics
With your audience and stage in mind, it's time to develop a methodology for measurement. You'll need some KPIs, or key performance indicators, to serve as benchmarks for success.
Let the audience and stage be your guide. Different campaigns require the measurement of different things. For example:
Awareness: If you're trying to raise awareness, you might look at views, impressions, unique users, awareness life, or ad recall lift.
Consideration: At this stage, you'd look at view through rate, watch time, and whether your ads are impacting favorability and interest in your brand.
Action: For an action campaign, where you're trying to get them all the way to the purchasing point, examine clicks, calls, conversions, sales numbers, and other outcome-based metrics.
Let the Data Lead Your Creative Team
All of your creative development should happen with this data-based groundwork already in place. That way, your creative people can drive toward the desired results, unleashing their artistic vision with a clear goal in mind.
You can either use a pre-existing video, develop something new, or use existing footage re-cut in a new way. YouTube offers some flexibility with overlays and calls-to-action, where you can superimpose text/graphics on top of your video.
But don't expect to simply toss an old commercial onto YouTube and get great results. It won't happen. TV ads aren't meant for YouTube.
You'll get much better results by creating a new how-to video, for example. This was true for one of EverEffect's clients, a do-it-yourself flooring company. They looked at their website data, reviewed their keywords, and targeted YouTube categories based on interest topics. The company's how-to videos are getting great viewership.
Keep Your Eye on ROI
ROI is what all companies want, and up to a few years ago, it was hard to promise real ROI from YouTube. It was hard to monetize the investment.
That's no longer true. EverEffect clients are seeing results like:
8% increase in search volume
3% higher conversion rates
4% lower cost of acquisition
YouTube offers a very low investment price point, compared to TV ads and other traditional media. You can do a lot with $10 a day or $20 a day, when you're only paying 6 cents a view, or 5 cents a view. For example, a law firm, paid one-third of the price of television ads for a YouTube campaign that was much more effective. The campaign cost them $490 per case acquired, versus a $1,400 per case acquired for television.
Plus, you can tell if people are really watching your YouTube videos. YouTube shares whether people watched 25%, 50%, 75% or stayed with you all the way to the end. Those are the kind of metrics worth paying for.
Next Step: Get to Know EverEffect
Ready to rev up your YouTube strategy?  As a Premier Google Partner, EverEffect has exclusive access to Google expertise – a distinction given to only a select number of Google Partners worldwide. Now, we can help our clients and potential customers learn the latest industry trends and how to best leverage them through exclusive webinars with our Google experts. It's just one of the great benefits that come from the experience, dedication and results-driven success our clients receive. If you're curious about what we're thinking, give our posts a read. Or give us a call at 888-506-2183 for a face-to-face.