EverEffect Can Help Specialty Insurance Agencies
If you're a small to mid-sized specialty insurance agency that's ready to:
Compete with industry Goliaths by out-thinking rather than outspending them
Transform your website into a lead-generating machine
Create a digital destination where people with similar interests share their passions while developing an affinity for your brand
Develop customer relationships that result in excellent reviews
Embrace mobility
Your business will benefit from a partnership with EverEffect. Our proven customized digital solutions for insurance companies evolve with the growth of your business, keeping your digital presence powerful and effective, with measurable results.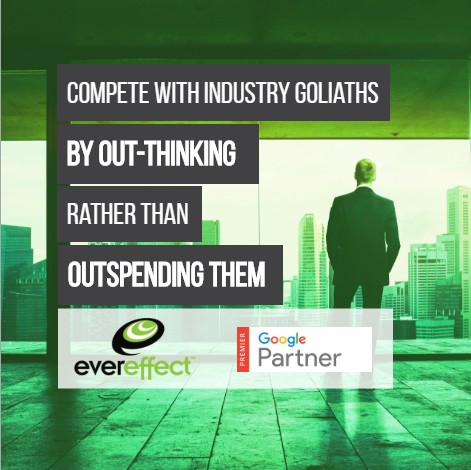 We Get Results – Classic Auto Insurance
Classic Auto Insurance was at a crossroads with their business. Insurance companies with recognizable brands were beginning to enter their niche market, and they were looking for new ways to compete. It's like the story of David and Goliath, Classic Auto Insurance is the small fry against all these big, super-spending companies.
Classic Auto Insurance needed to improve their online presence.  They lacked the knowledge or resources or the strategy in place to do it.  To compete online successfully, they understood that they needed a strategic digital marketing plan and needed help with building it, making it successful.
Classic Auto Insurance partnered with EverEffect in 2011 and in time has boosted annual quotes by +45%. More impressive is annual total premium has increased +53%.
The most successful partnerships EverEffect has are with companies that share their business outcomes with us. The team at Classic Auto have been most excellent in this respect. And one of the main benefits that EverEffect brings to the table is the ability to evolve over time. When we engage with partners like that, we get results.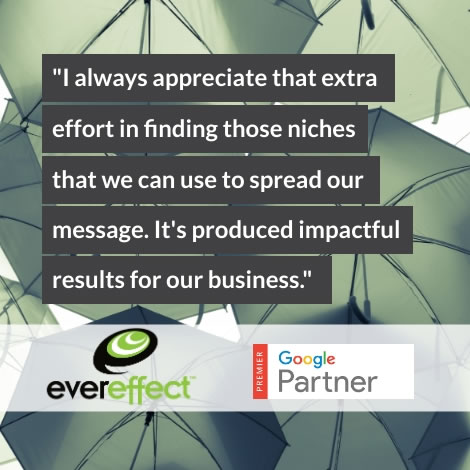 The Power of "IF"
IF your website isn't driving traffic or converting, we conduct an audit of your entire content management system, find the root causes and suggest better ways to elicit excellent leads.
IF your content technology, strategy and execution is hurting growth, we opt for quality over quantity, delivering original content that not only engages your specific audience, it takes advantage of best practices such as video, visually compelling graphics, photography and expertly written narrative to tell good stories in your own authentic voice.
IF your paid search and advertising
costs too much to be competitive, we create efficiencies within your account and continually adjust spend, repurposing toward keyword terms that have more value for your business. We experiment with new types of campaigns, such as YouTube ads that deliver results comparable to traditional search at a far lower cost per conversion. We demo artificial intelligence and machine learning for bidding strategies and use new tools available for targeting by a demographic and household income, to refine our searches and find the right audience, in spite of budget limitations. We track and report on the outcome and expect you to share results with us.
EverEffect is a Google Partner and has exclusive access to Google expertise – a distinction given to less than 5% of all Google Partners worldwide. Our status is based upon successful client retention and our performance vs. our agency peers.  Now, we can help our clients and potential customers learn the latest industry trends and how to best leverage them through exclusive webinars with our Google experts.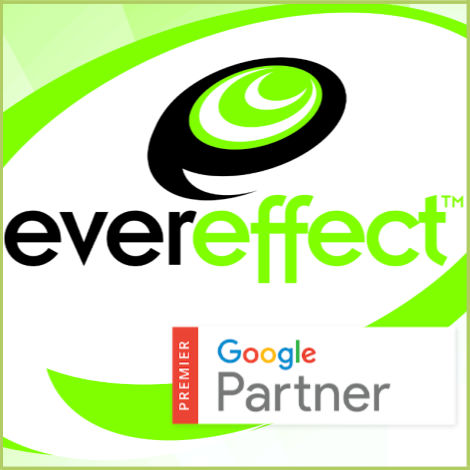 IF your story
isn't building your brand, we put all of the most effective sharing strategies to work for you – YouTube, social media platforms like Instagram, email blasts, podcasts, targeted blog posts and more – to reach different audiences in multiple ways. We also develop relationships with like-minded businesses that prove mutually beneficial when it comes to connecting with your tribe.
IF your customer reviews reflect a less than stellar reputation, it could have a devastating impact on your bottom line. We help you pursue those five stars aggressively, making sure the first page of your Google search results is accurate and glowing, asking your clients their opinion, recommendation and review in more ways than one, thanking them for their input and responding to all of their concerns respectfully, with positive solutions.
IF your digital footprint isn't mobile friendly, consider these stunning stats. 80% of all purchase transactions start with a search on the smartphone. Mobile searchers are evaluating between five and 11 competitors before they engage with the one. 90% of mobile searchers are reading customer reviews and 90% are watching at least one video. For today's savvy insurance agencies, it all comes together for your potential clients on smartphones, tablets and laptops … and we have years of experience with websites, social media and search listings to make it a fabulous experience.