EverEffect Can Help Nonprofit Organizations
If you're a small to mid-sized nonprofit organization and you're ready to:
Increase donations and memberships
Develop your online presence and a spot-on marketing message
Improve your visibility within the community
Your organization will benefit from a partnership with EverEffect. When we partner with your nonprofit, we really believe in your cause – supporting your incredible work with not only creative ideas. We also work behind the scene on proven conversion methods for your online presence that help increase memberships, donations, enrollment, volunteers – anything you need to get your message out these in the best ways possible.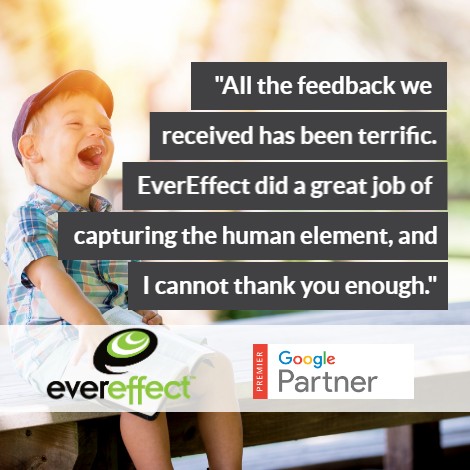 We Get Results – Children's Bureau
With over 165 years of experience, Children's Bureau, Inc. advocates for children and their families in Central Indiana, particularly those who are at risk.
As an Indianapolis-based corporate sponsor, EverEffect partners with Children's Bureau to help give kids and their families a better chance to succeed and to build a stronger community. Recently, we collaborated Children's Bureau on their Annual Meeting presentation, producing/directing an original video, Children's Bureau: Partners on the Road of Life.
This is really terrific! All the feedback we received has been positive. You did a great job of capturing the human element, and for that I cannot thank you enough.
– Annie, VP of Communications & Development
The most successful partnerships EverEffect has are with companies that share their business outcomes with us. The team at Children's Bureau have been most excellent in this respect. And one of the main benefits that EverEffect brings to the table is the ability to evolve over time. When we engage with partners like that, we get results.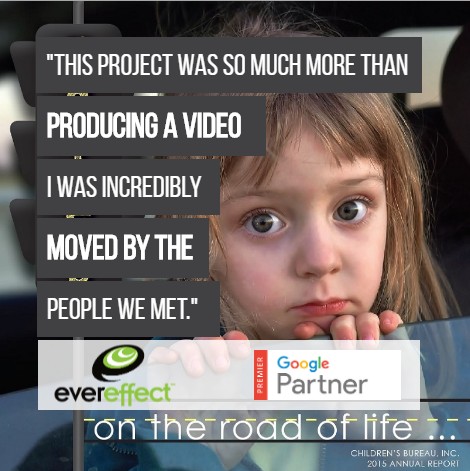 The Power of "IF"
IF you want to increase donations, we will work with you on your web presence, making it easy for people to give once they visit your site. This includes memberships, too. People always want to know how their donation makes a difference in people's lives. We'll help you craft that message with the upmost care, whether it's delivered in words, web content, infographics, video and more.
IF you need a student enrollment campaign, we have executed several successfully, such as Little Star Center – helping parents to enroll their kids with special needs at school locations throughout Indiana.
IF your paid search and advertising
costs too much to be competitive, we create efficiencies within your account and continually adjust spend, repurposing toward keyword terms that have more value for your business. We experiment with new types of campaigns, such as YouTube ads that deliver results comparable to traditional search at a far lower cost per conversion. We demo artificial intelligence and machine learning for bidding strategies and use new tools available for targeting by a demographic and household income, to refine our searches and find the right audience, in spite of budget limitations. We track and report on the outcome and expect you to share results with us.
EverEffect is a Google Partner and has exclusive access to Google expertise – a distinction given to less than 5% of all Google Partners worldwide. Our status is based upon successful client retention and our performance vs. our agency peers.  Now, we can help our clients and potential customers learn the latest industry trends and how to best leverage them through exclusive webinars with our Google experts.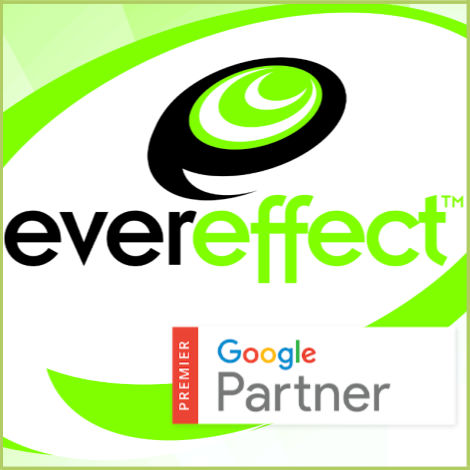 IF you want to enhance an academic curriculum or project,
we'll find a way to energize learning. As an example, we produced a capstone series of videos for
Get Real Math!
, a learning program sponsored by NEW Manufacturing Alliance that showcases over 40 math skills used in the real world.
Learn more about using video to energize academic curriculums here.
IF you need help with an annual marketing budget, we'll consult with you on a strategy to be visible when people are actually looking for you. For instance, school enrollment is usually on parents' minds in the summer, before the school year starts. Donations are heavy in the fourth quarter, as people start looking for worthy nonprofits or charities to support Thanksgiving until Christmas. During these times, your money will be better spent.
IF you want conversion, research indicates that 90% of people are going to watch at least one video. We can produce a powerful video that illustrates the impact your nonprofit has on the lives of your community, which is going to have an emotional impact on the viewer and likely help make that conversion.
IF you want to measure results effectively, we will work with you on developing a web analytic dashboard that measures how your website is performing in terms of donations. Based on the results, you can set new goals and continue to refine going forward. We helped the Children's Museum of Indianapolis with this, and also crafted expert content for their web store that helped make sales.