The Secret to Effective Facebook Ad Targeting
 "Great shot, kid! That was one in a million!"
-Han Solo
Let's get real for a sec. "One in a million" shots are great for the movies; in fact, I bet many of your favorite movies just wouldn't be the same if they lacked that "save-the-day" moment: the hero reaching some seemingly unattainable goal, scoring the impossible shot or destroying the enemy in one fell swoop.
But. That's. Not. Real. Life. Certainly not when it comes to effective Facebook ad targeting.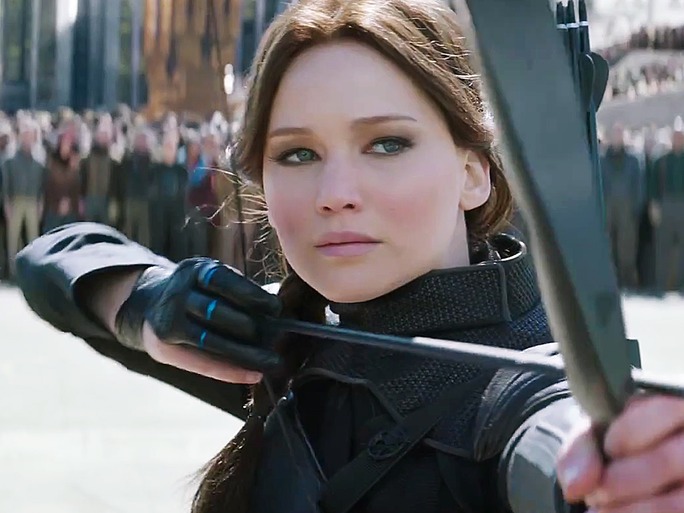 Sure, on weekends I like to shoot my bow and arrow just like Hunger Games' hero, Katniss Everdeen. My aim, however. Well, it's joke-worthy. I couldn't hit a brick wall with a water balloon from three feet away. Seriously. You know what I can do, though? paysafecard kuwait I can develop a Facebook ad campaign that targets your desired audience, delivers results and engages them like you've never seen before. سعر اشتراك يورو 2023
My secret to being a Facebook ad hero? Make the target larger.
When it comes to social media, I've suggested before how important it is to increase your audience – the larger your existing follower base, the more people will see, interact with and spread your messaging around the social realm. Well it turns out; I am absolutely right. Facebook actually rewards you when you focus on increasing your audience. Want to beat the algorithms? Hang on to your popcorn, while I reveal more.
Now. This. Is. Real. Life. One of our favorite clients is Classic Auto Insurance. Prior to April of 2016, Classic Auto's ad results on Facebook look pleasantly average. قرعة اليورو 2022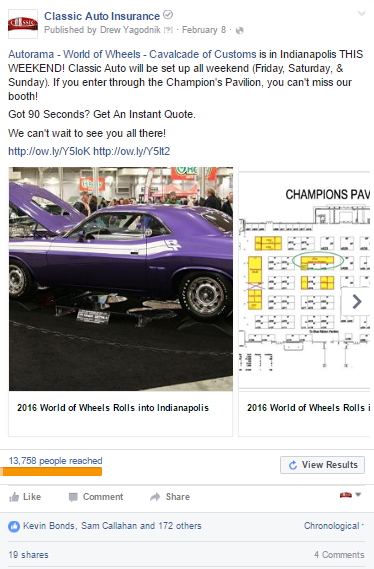 This simple, boosted post looks great, right? All things considered, to spend $100 and have over 12,000 people see your message (as well as 197 engagements) is not too shabby. We have some pretty specific audience targeting in place for all Classic Auto ads, including those who aren't just interested in classic cars, but those who own a collection and have a need for specialty insurance coverage. It's a niche market, to say the least. With this initial success, the Classic Auto Facebook audience is growing at a steady but slow rate of about five new followers per month.
April 2016: The Target Grows
I begin a new campaign for Classic Auto, one which does not drive traffic to the website (they are unsure at first if this is a worthy goal). Rather, the campaign encourages people to become a permanent part of the Classic Auto Facebook community. Here's what that ad looks like: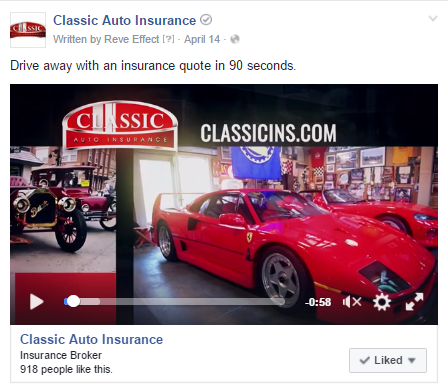 Nice ad, right? It uses video, simple messaging and little button to "like" the page instantly. How is this ad performing? Take a look:



Our maximum spend on this ad is $5.00 per day. At the very most, $155.00 per month. This ad has been live since April 14,2016 and has spent $599.33 so far. It's reached over 19,498 people. That means 19,498 people who had never heard of Classic Auto Insurance now know the name.
This ad has also doubled our Facebook audience since April. What this means for Classic Auto is that double the people are now seeing their content on a regular basis.
Not impressed? Okay, that's fair. No matter how many people are seeing their content now, 19,498 impressions for $599.33 really doesn't seem like a better deal than 12,436 impressions for $100.00.
Bigger Target, Same Arrow…
Check out what happens when I sponsor a post now: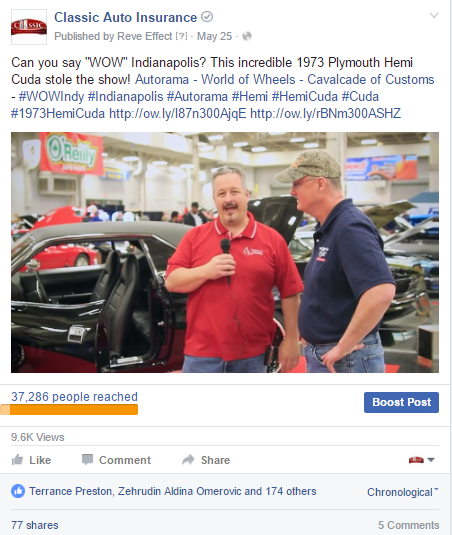 This post is boosted just a month after the follower ad is launched. The Classic Auto audience has increased by 249 followers at this point; yet, because of the increased visibility to our own audience, the activity on the post goes through the roof.



With less than $100.00 spent, the impressions nearly triple, cost-per-engagement is down to $0.01, and 77 viewers share this video with previously unreached audiences.
At the beginning of June 2016, we boost this post. Same $100.00 spend: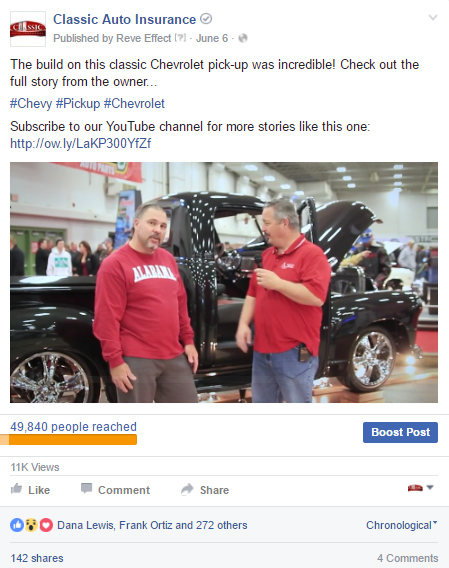 As the Classic Auto audience grows, engagement grows. It's not slow, steady growth, either. It's the "Holy Toledo, Batman!" kind of growth.
Our July 2016 boost: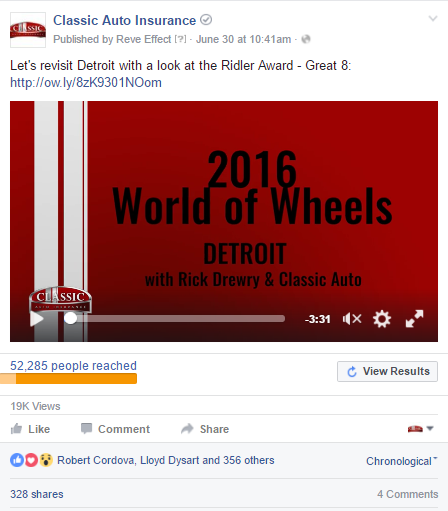 With this $100.00
45,727 people see our name
17,722 people watch our video and hear our message
358 people "like" our video, bumping it through the algorithms and causing it to come up higher on peoples' pages
328 people shared this with their families, friends and audiences
the initial 19 shares are blown out of the water
$100.00 goes a lot further than it used to.

Same arrow. Same X-Wing blasters. Same Facebook Ads. Bigger target.
GET TO KNOW EVEREFFECT
Interested in increasing your target size, and reaching a much larger audience than you've hit before? At EverEffect, our approach is personalized to your needs. As easy as it would be to take this approach for every single client, and use a blanket method of success, we recognize that your success will likely come in customized ways, and we are here to discover those ways. Social Media Manager Kacey Reynolds would love to help you with a personalized social media plan, one that's right for the size of your business, and one that helps you achieve the growth you're dreaming of. Give us a call at 888.506.2183 and let's start making your online presence known.