PPC Account Management: The 7 Deadly Sins – Sin #3 – Gluttony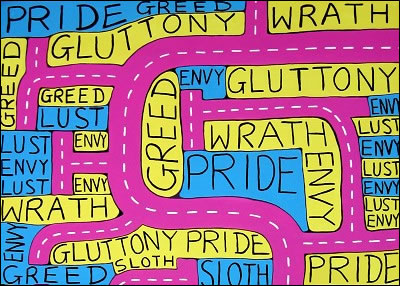 "The greatest wastes are unused talents and untried ideas."
— Anonymous
In reality, commit a PPC Management sin and it leads to waste (gluttony). For proof, check Part 1 or Part 2 of this series.
When it comes to wasted talents, one needs to look no further than Lindsey Lohan or Charlie Sheen. Duh … gluttons for punishment!
As for untried ideas, let's put a new spin on the sin: when you ignore new or existing features or ideas, you are missing (wasting) opportunities.
Binghoo –
Search share is now at approximately 30%. While not for everyone, in some cases total cost is far lower than Google, and Conversion Rates can be quite solid.
Ad Extensions (Google) –
Phone
Location
Sitelinks
Product
Brand Campaigns – Invest in yourself!
In most cases, local businesses derive a good deal of traffic from people searching on their "Brand" terms.
These types of campaigns are almost always a low CPC play. After all, who is more relevant to your Brand than … You? العاب لكسب المال
Leverage Site-links and Phone Ad Extensions, and you can make quite a splash.
A local business, paying $0.25 to $0.50/Click for Brand-related terms, could send 1,000 to 2,000 more Visitors a month to their site for an investment of only $500.
Geo-Targeting –
This feature is especially critical if you are an SMB or hyper-local.
Example 1: intense pressure on Max CPC Bids often stems from poorly executed campaigns by other advertisers across the country. For instance, many individual dentists or their proxies are not employing Geo-targeting – we highly doubt that Indiana residents are actively seeking dental care in Rye or Oswego, New York or the United Kingdom! 888 casino عربي
Example 2: A major Health Insurance Provider, authorized to sell policies in only a dozen states, displayed its PPC Ads nationwide. Would it shock you to learn that they were wasting hundreds of thousands of dollars a year on clicks from people who could never legally buy from them?
The Display or Content Networks (AdWords/Bing) –
Again, this may not be for everyone. However, Display/Content Network Campaigns can contribute significantly to your bottom line, and at much lower CPCs. In our experience, Managed Placements tend to perform better than Automatic Placements. One of our clients generates 70% of their Leads at 25% of their cost for the same Keywords on the Search Network.
Managed Placements allow you to optimize your Ads for the individual sites where they will appear. The added context (relevance) can greatly enhance Conversion Rates. ملاعب اليورو 2024
Goal/Ecommerce (Google Analytics) or Conversion Tracking (AdWords/AdCenter) –
Not measuring or analyzing Conversions? Oops!
When it comes to Sales from Pay-Per-Click, the 80/20 Rule applies too; 20% of your Keywords will generally account for 80% of your Revenue. If you have not enabled Goal, Ecommerce, or Conversion Tracking, you cannot possibly identify those most productive terms.
Put another way, as much as 80% of your spending may account for only 20% of your sales. Now that's waste!
Web Analytics –
Ignore at your peril. Do not forget to consider the on-site performance of your campaigns within your Analytics solution. Campaigns, Ad Groups, Keywords, and Text Ads should all be routinely evaluated for onsite performance related to:
Bounce Rate
Average Pages/Visit
Average Time on Site
Goal / Ecommerce Conversion Rate(s)
Revenue
Value/Visit
Value/Visit is an especially valuable metric for you to monitor. Would you really pay $2/Click when the Keyword you're bidding on only generates $1/Visit?
As you can see, it is often what you didn't do that causes more waste (gluttony) than anything you did.
Related posts