Beware the Ultimate Grinch: Online Holiday Scammers
"Your ads may be paused or disabled unless you log into your account now and verify your information."
Would a message like this, arriving in your inbox during the busiest ecommerce season of the year, alarm you? Would you hurry up to log in from the link provided, in order to insure continuous delivery of your ads lest eager holiday shoppers miss out on your creative and click on any number of your competitors' ads? طاولة You certainly wouldn't be alone, but shortly after taking action you may find that you've fallen victim to a classic online phishing scam.
With Thanksgiving behind us and Christmas just around the corner, this can be a great time of year for online retailers and consumers alike. Unfortunately, along with the online purchasing frenzy comes a greater risk of running into any number of online fraud and phishing scams. Don't allow your name to be added to the long list of victims this year: protect yourself and your information with knowledge of what to watch out for. انجازات ميسي
While many people may already be aware of scam phishing emails that claim to be sent from banks, requesting verification of personal and/or financial information, AdWords advertisers should be aware that similar email phishing scams have become a popular way for criminals to reach out to account holders as well. Anyone should be wary of emails requesting that they log into their accounts to update or verify information. مضمار الخيل
Check out this email below, received by an AdWords account holder within the last few days: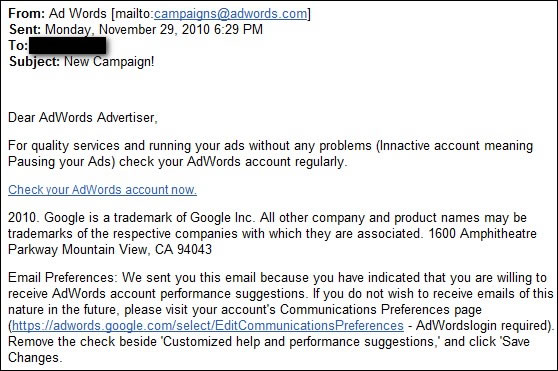 This is NOT an authentic email from Google AdWords! Protecting yourself from online criminals and scams such as these doesn't have to be difficult:
Always ensure that your antivirus software is properly installed and up-to-date.
Remember not to access sensitive or personal information from unsecured networks.
If you receive an email requesting personal information, or verification of information, read carefully. Never hesitate to contact the bank or company that claims to be sending the email to check on things.
If you're an online retailer working with us here at EverEffect, always feel free to contact us with questions regarding an email's validity and we'll be happy to look into things for you. Everyone should be able to enjoy their holidays without worrying about whether their personal or company information is safe.
Related posts